There is nothing like a good stretch after a run, and that's why I absolutely love my post-run yoga. While it's not a good idea to hold long stretches before your run (static stretching), yoga is a perfect way to loosen up after your run. (For more information on stretching for runners, check out my post Stretching for Runners—Timing.) But what are the best yoga poses to try after a run to help you loosen up and relieve your tight, sore muscles? Keep reading to learn my favorites (and the poses I include again and again in my yoga for runners classes).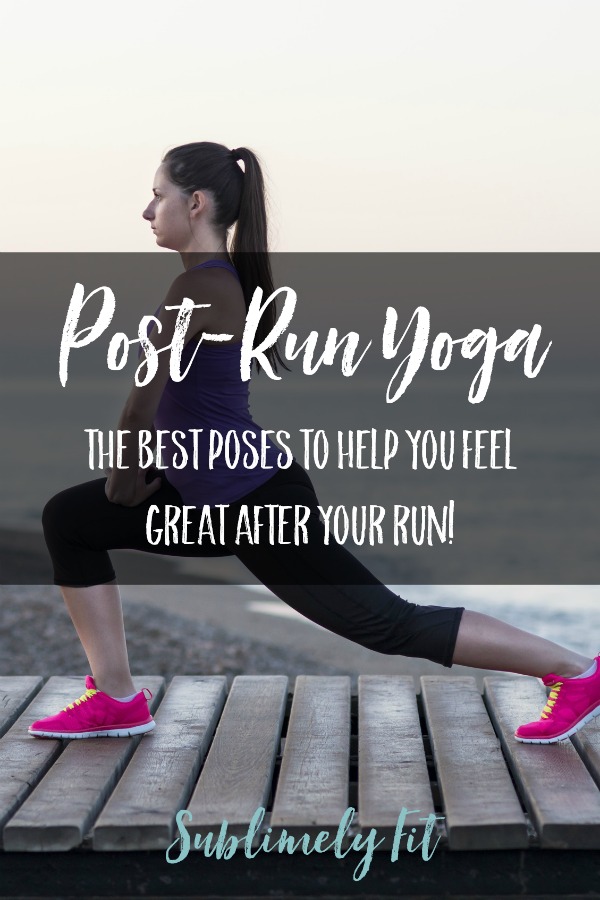 After many years of practicing yoga (and practicing yoga after my runs), I've narrowed down some yoga poses that I always do after my runs. I always make sure that I hit all of the major running muscle groups: hips/glutes, calves (Downward Facing Dog is great for that!), hamstrings, and quadriceps. I'll also usually throw in a stretch or two to help stretch my chest and shoulders. If you're curious about the general sequence that I follow in my post-run yoga routine, be sure to check out the video below, and read through my favorite poses, which I've also included in this pose. I think they'll help you get in a better stretch after you run!
FREE Hip Openers for Runners Guide
Sweet relief for your tight, sore hips!
Get the best hip-opening yoga poses sent straight to your inbox.
Disclaimer: I am a yoga teacher, but I'm not your yoga teacher. Always practice yoga mindfully and if you have any questions, consult with your teacher.
Post-Run Yoga Sequence Video
Post-Run Yoga Poses
Not near your phone? If you're looking to make up your own sequence, or if you're not somewhere where you can stream a video, here are my favorite poses to do after my runs: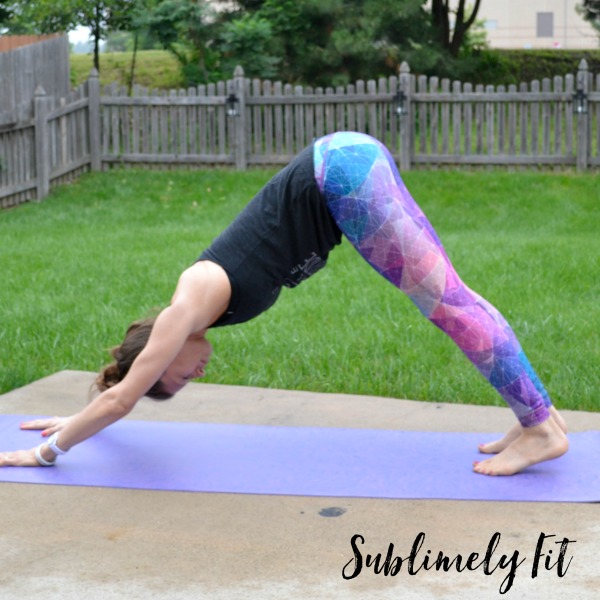 DOWNWARD FACING DOG – You use your calf muscles so much when you run, and tight calf muscles can cause all sorts of problems for runners, from impairing your running form to contributing to plantar fasciitis (by pulling on the tendons in the ankle that are connected to the same attachment points in the heel as the plantar fascia). Make sure you give your calves some love after your runs! I love that downward facing dog also helps me open my chest and shoulders, too.
RAG DOLL – For some reason, I always start with a forward fold variation after my runs. It helps me slow down my breathing and my heart rate, and it just feels good to release my upper body and hang in the fold after a good, hard run. Hanging in Rag Doll allows you to release your neck and back while giving you a nice hamstring stretch. It's okay to bend your knees as much as you need to if you have tight hammies.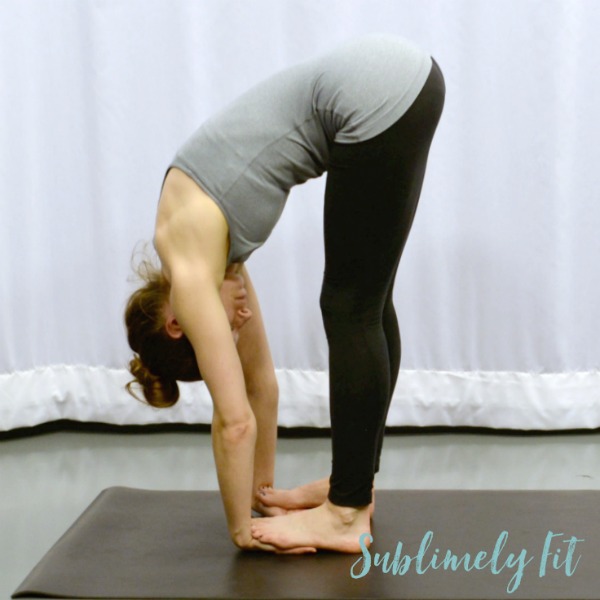 GORILLA POSE – From Rag Doll, I'll usually switch to Gorilla pose. I love doing Gorilla in my post-run yoga routine because it stretches out my calves and my hamstrings at the same time. Slipping the palms of your hands (or even your fingertips) under your feet helps raise up the toes, allowing the calves to get a stretch, too. This is another pose where you can bend your knees as much as you need to and just let your head hang heavy.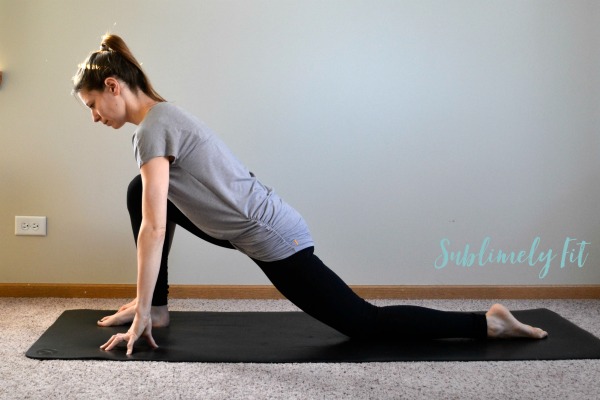 RUNNER'S LUNGE – Runner's Lunge is a fantastic stretch for the hip flexors. Pressing your hips forward allows you to get a deeper stretch through the hamstring of the back leg. I had a pretty bad hip flexor injury back in 2012, so please trust me when I say don't neglect your hip flexors!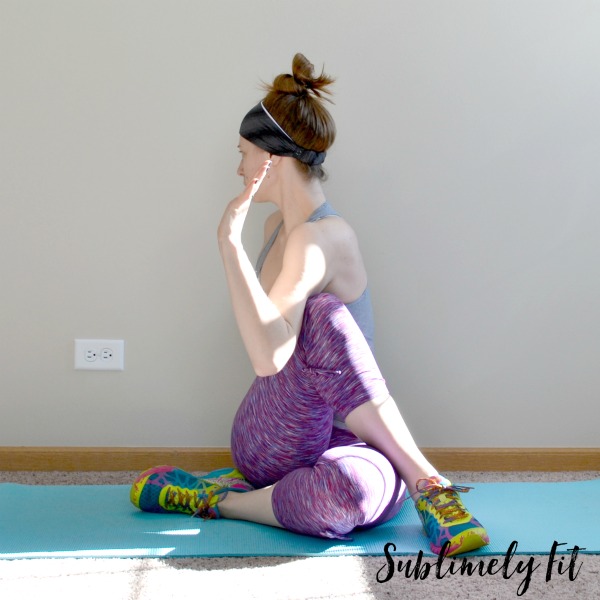 LORD OF THE FISHES POSE – Lord of the Fishes can be tricky, but it's an awesome stretch for the piriformis, which tends to get tight in a lot of runners. I'm showing a variation of the pose here where I'm using my arm to pull my top leg back toward my torso, giving myself a deeper stretch. The closer in you pull your knee to your torso, the deeper stretch you'll get.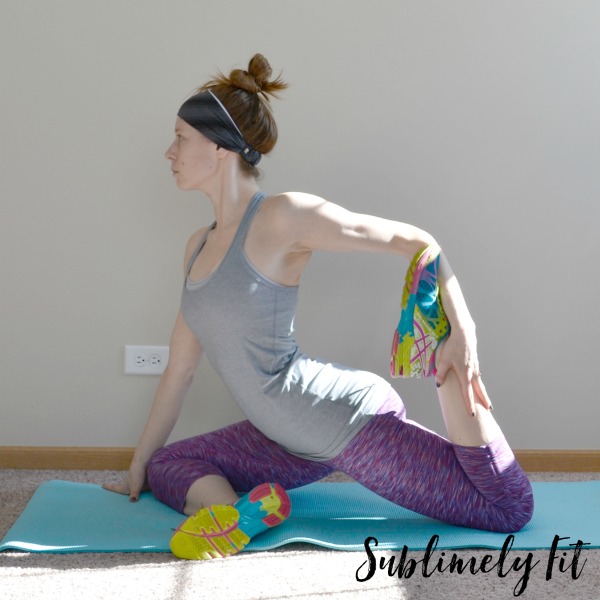 KING PIGEON POSE – King Pigeon is a tricky pose, too, but it gives you a great quad stretch, which is why I include it in my post-run yoga routine. However, PLEASE DON'T TRY THIS IF YOU ARE NEW TO YOGA! If you don't have the right positioning and some flexibility in your hips this can be a really bad pose for the knees, so if you tend to be really tight you might just want to skip this one for a traditional standing quad stretch at the wall. Also check out the quad stretch in the video embedded above.
In King Pigeon, you want to shift your weight forward a bit so you're resting on the top part of the quad of your back leg, not on your knee. It's important to listen to your body and to try to balance your weight side to side and front to back so you're not putting too much pressure in any one place, especially on sensitive joints like your knees. Again, if you try this pose and you feel knee pain, don't do it!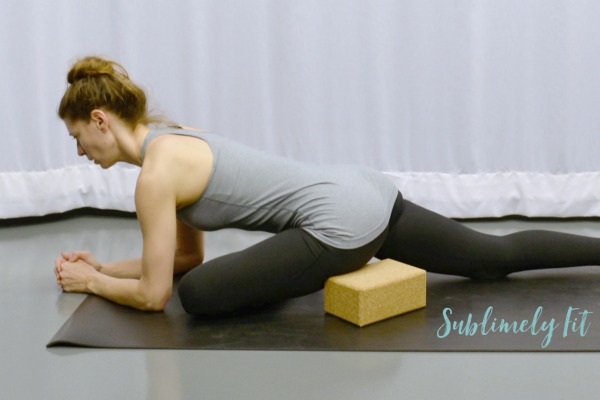 PIGEON POSE – Pigeon is my favorite pose to practice at the end of my post-run yoga routine because I can just relax into the pose and chill out for a few minutes. If this is too much for you, try reclining pigeon (full description of how to do the pose here). The key to getting a great stretch from pigeon is to not collapse your weight into the hip of the leg that has the bent knee. You want your hips to be level so you can get the proper stretch through the hip. A block under that hip can help you achieve the right position if you're having trouble finding the right position.
Have more questions about post-run yoga? Want to share your favorite post-run yoga pose? Tell me in the comments!
Linking up with Running on Happy, Crazy Running Girl, and Coach Debbie Runs for Running Coaches' Corner.