Since finding out I was pregnant, I've had to modify my own yoga practice, especially as my baby has grown larger. So today I wanted to share some prenatal yoga basics for my fellow expectant mamas. Yoga has helped me cope with some of the crazy emotions that come with the pregnancy hormones, as well as helping me loosen up the muscles that are feeling achy as my body changes. I hope you find help through yoga, too!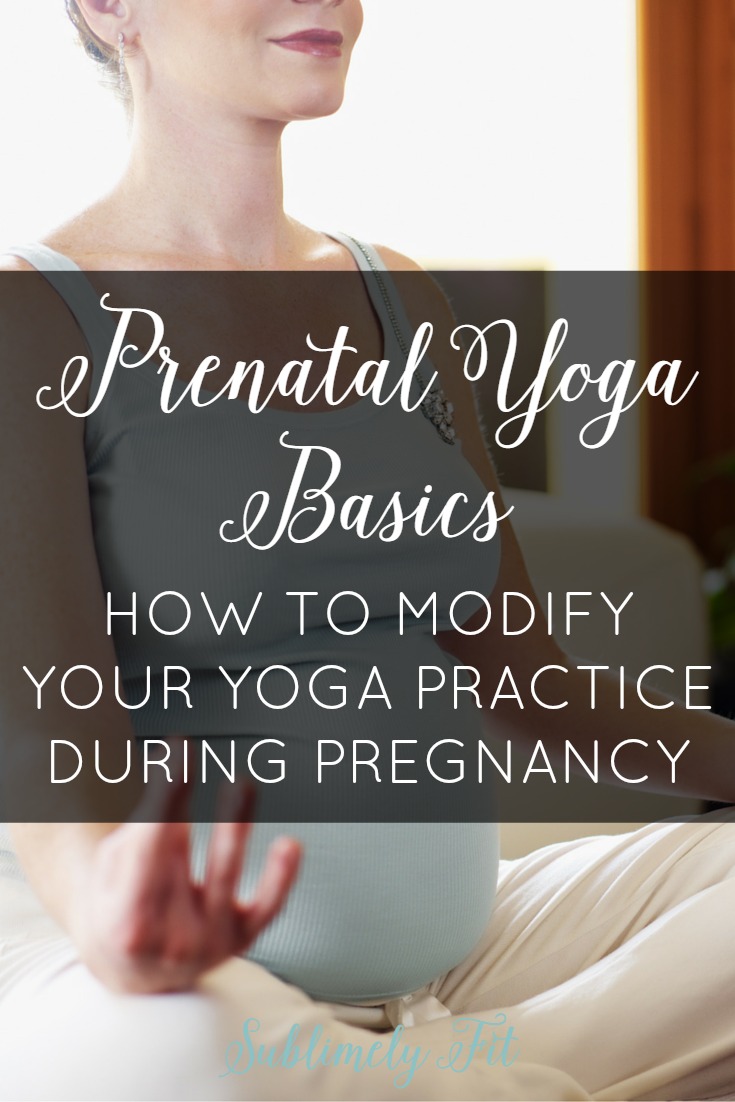 VERY IMPORTANT! There are many potential complicating factors when you're pregnant. You must check with your doctor or medical care provider to make sure that he or she thinks you're healthy enough for yoga, and to see if he or she would like you to take any precautions or restrictions.
FREE Hip Openers for Runners Guide
Sweet relief for your tight, sore hips!
Get the best hip-opening yoga poses sent straight to your inbox.
How Your Body Changes
First, I'd like to start my prenatal yoga basics tour with a little bit of background on how your body changes when you're pregnant. First and foremost, your body starts to produce more blood to help support the growth of your baby. So, your heart is working harder to pump that extra blood, and your lungs are working harder to put oxygen in that blood, too. Also, as your baby gets bigger, he or she will start to press on your diaphragm. So, you'll start to feel winded more quickly, even if you're in good shape. I've definitely experienced this.
Your body is also producing a hormone called relaxin. Relaxin helps to loosen the ligaments in your pelvis, making more room for the baby during birth. However, it also affects all of the other ligaments in your body. This means that it's much easier to overstretch and to start to stretch ligaments instead of muscles. It also means you'll feel a little clumsier because your joints are more wobbly. Move slowly and use the support of a wall, a chair, or other props whenever you need to.
Prenatal Yoga Modifications
If you had a yoga practice before you got pregnant, you should be able to continue practicing with a few modifications. Always carefully listen to your body and rest when you need to. But, often a prenatal yoga routine can feel invigorating and refreshing. It's a great time to explore the changes in your body, and to use the mental clarity you find during your yoga practice to help you bond with your baby. If you're just starting a yoga practice when you're pregnant, you may want to seek out a specialized prenatal yoga class.
Here are a few general rules for practicing yoga when pregnant:
Avoid inversions. Minor inversions like downward facing dog and forward fold variations are usually okay, but you want to avoid any inversions like headstand and so on. First and foremost, you don't want to risk dislodging any blood clots in your legs. Your heart is also working very hard already, and inversions can make it work even harder. And, you don't want to risk falling over with your wobbly joints.
Avoid twists in the lower spine. Closed twists (where you're twisting toward your body's midline) can be tricky during pregnancy. It's usually okay to do a small amount of twisting through the upper back (the thoracic spine), but make sure your hips continue to face forward. Skip deep twists like a Twisting Chair Pose or Twisting Lunge pose, which can put too much pressure on your stomach. Always follow the number one rule of prenatal yoga basics (and yoga in general): if it doesn't feel right, and especially if it's painful, don't do it.
Avoid lying on your stomach. It's generally safe to continue to lie on your stomach during the first trimester, when the uterus is still protected in the pelvic cavity. But, as soon as you start to show, you should begin to modify these poses. Poses like Locust Pose can be modified to a spinal extension like Bird Dog to help strengthen the spine. Or, you can play around with using props to support your chest and/or hips so you're not lying directly on your uterus.
Avoid lying flat on your back. Once your baby gets big enough, usually mid-second trimester, you'll want to avoid lying flat on your back. The baby can put pressure on the major vein and artery in your abdomen, restricting blood flow. You'll want to prop your head and shoulders up slightly with a bolster, blankets, or pillows. Poses like Savasana (Corpse Pose) can also be taken on your side, making the pose easier for you and your baby.
Focus on pulling your core in. When engaging the muscles in your core, it can be easy to press your abdominal muscles out. However, that pressing out can put you at an increased risk of developing diastasis recti, or separation of the front abdominal muscles down your midline. When you're engaging your abdominal muscles, always be thinking about pulling your navel toward your spine, drawing the right and left sides of your abs together. As you get further along in your second and third trimester, you'll likely want to avoid poses that involve strong abdominal involvement like Boat Pose.
Avoid hot classes. Even if you've been practicing heated yoga, you might consider switching to a cooler practice. Exercising in a hot room elevates your core temperature, which can be dangerous for your baby. If you have a vigorous yoga practice, you might want to be safe and practice yoga in a cooler, less humid room. Always listen to any signals your body is sending you, and take breaks as your body needs them.
If you have questions about prenatal yoga basics or any specific yoga poses and how to modify them, I'd strongly suggest consulting with your yoga teacher. He or she can walk you through different modifications to try to help keep you and your body safe during your yoga practice.
Prenatal Yoga Basics Resources
Here are some of the books that I've found helpful (affiliate links):
Yoga Sequencing by Mark Stephens – There's a great section in this book about how to modify your yoga practice for pregnancy.
Yoga for Pregnancy, Birth, and Beyond by Francoise Barbira Freedman
Questions about prenatal yoga basics?
Leave them in the comments!