I ran my first Ragnar Chicago this weekend and it may have been the most fun I've ever had with a race. I got to meet some blogging friends in real life, made some other new friends, and ran hard on little sleep. I loved every minute of it.
Most of us were heading up from Chicago, so we met up with our team captain, Mo, at her dad's house. It was nice to have a good staging area to set things up. I was in Van 2, AKA the #strugglebus. Luckily all the bloggers besides Mo were in Van 2, so nobody batted an eye when we were on our phones doing social media updates all the time. I finally got to meet Susie and Sara and also met Eric and Jessie.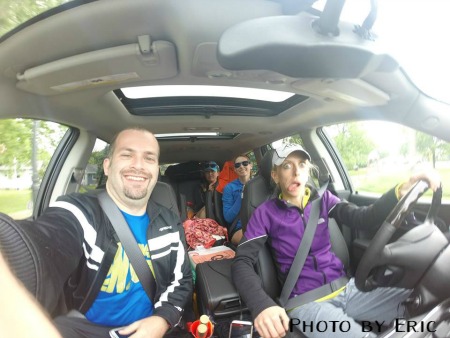 FREE Hip Openers for Runners Guide
Sweet relief for your tight, sore hips!
Get the best hip-opening yoga poses sent straight to your inbox.
The car rental place messed up the reservation so instead of getting two minivans, Van 1 was a minivan and "Van" 2 was a nicely equipped Buick Enclave. And, we got free satellite radio, which we took full advantage of. We headed up to Madison Thursday night, grabbed dinner with the team, and then turned in to get some sleep in an actual bed.
Friday morning we woke up, headed to the start line and picked up Krista, our final vanmate. We then grabbed breakfast at Monty's Blue Plate in Madison while Van 1 ran their first legs. I can't resist a donut with sprinkles.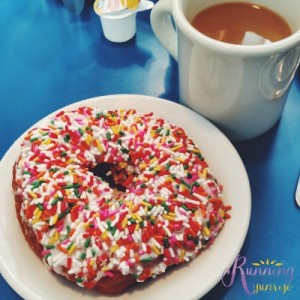 And we found a coffee shop with Cards Against Humanity and played a few rounds to kill some time. If you ever play CAH with Sara, watch out. She joined halfway through the game and pretty much immediately racked up four black cards.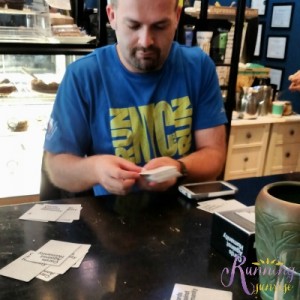 In the late morning, we headed to the first major exchange to check in, get our safety gear checked, and to see Sara off for Van 2's first leg. We had a lot of injured runners in our van (thus the #strugglebus tag), but everyone ran really well. My first exchange where Jessie was handing off to me was a mile long, so I wound up picking up some distance from her since I was undertrained but uninjured.
I had anticipated running around 11 minute miles since I've lost a lot of my speed, but I averaged 10:18 for my first segment of 4.5 miles, which I was pretty happy with, especially since I started around 3:20 PM and it was kinda warm.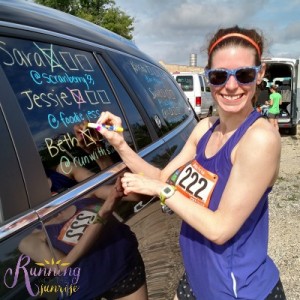 After Van 2 finished our first legs, we grabbed some dinner and then headed to the next major exchange before starting our night legs. I was a little freaked out about running in the dark because I don't trust drivers when I'm running and part of my run was on an isolated trail. It had been raining a lot so I had some unavoidable puddles in the middle of the trail that I had to run through and my feet got fully submerged within the first mile of my run. By then the runners were pretty spaced out and I ran a good mile and a half before seeing any other runners. But, I survived, and the anxiety actually helped me run faster and I averaged 9:45 min/mi over 5.3 miles.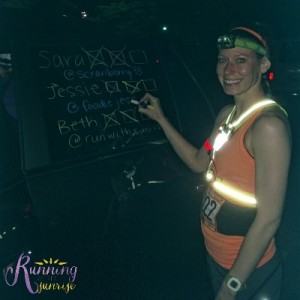 When the rest of my vanmates were finished with their night legs we headed to the final major exchange to catch some sleep. Jessie, Krista, Eric, and I grabbed our sleeping bags and slept under an awning by the high school where the exchange was located.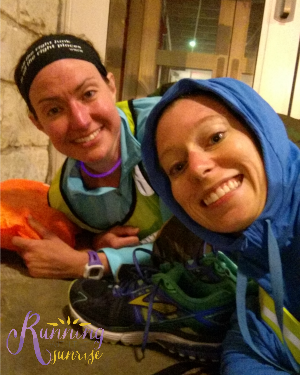 Apparently there was a storm that came through that Jessie and I completely slept through. And Eric had some guy next to him trying to snuggle with him. Good times. Unfortunately the storm washed most of our decorations off of our car–sad face.
We had a lot of fun running our last legs, helped in part by the lack of sleep, I'm sure. We were blasting the satellite radio top hits of the 2000s station when "Low" came on, so of course we had to have an impromptu dance party.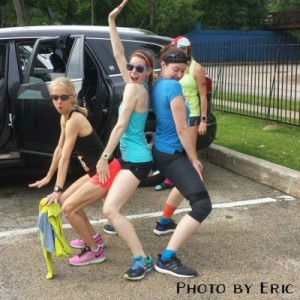 Everyone was looking at us funny, I think because they wished they were as fun as us. The last legs were really fun as we got to drive through the nice neighborhoods in Winnetka and got to see glimpses of the lake. My final leg was along a wooded trail, and I was pretty happy with my 10:18 min/mi average for 4.5 miles since it was getting pretty warm and I slow way down in hot and humid conditions.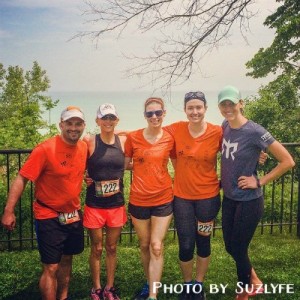 Eric had our last leg and really booked it to the finish line. We finished way ahead of our anticipated time because my teammates are rockstars and we hauled some major booty.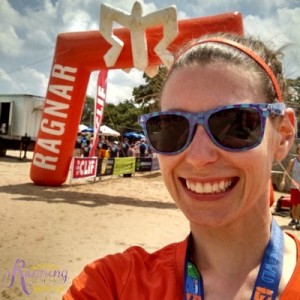 I seriously had so much fun and loved getting to meet and hang out with everyone. I wish I could do this every weekend. I'm missing my teammates already and hope we can meet up for drinks or something soon. (Jessie, we'll get you a plane ticket. :))
Have you ever run a relay?
Do you prefer to run in the heat or the cold?
What's your favorite kind of donut?