Sometimes you need a bit of help to let go and relax after a hard day at work. I know I've certainly spent my fair share of time tossing and turning, trying to fall asleep when I can't because I'm thinking too much about the day I had or the day to come. I've found that it's really important for me to do things that help me wind down before bed. I can calm down my body and my mind, which helps me fall asleep faster. Some relaxing bedtime yoga has really helped me sleep faster, which is why I put together a gentle relaxing bedtime yoga sequence.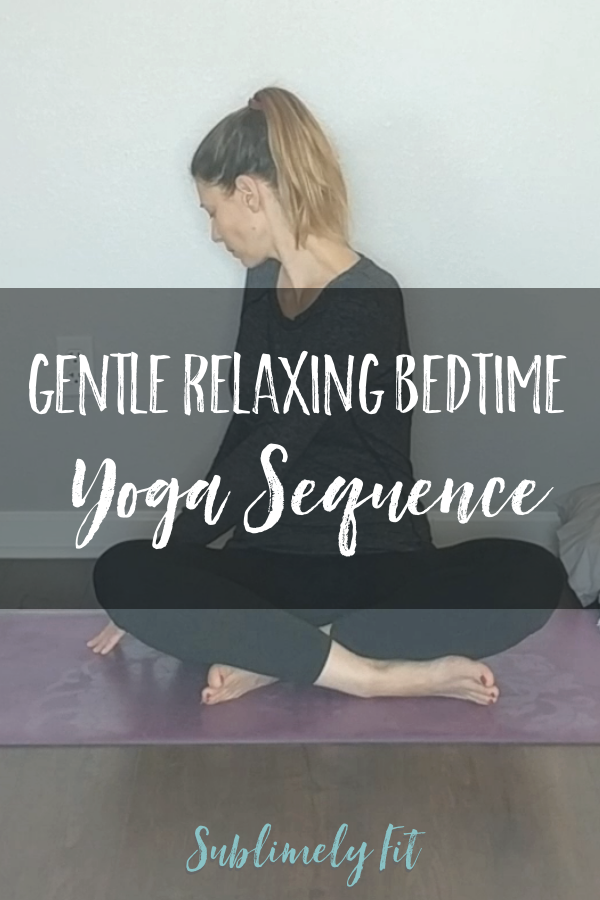 What's really great about this sequence? All of these poses but one (the Standing Forward Fold) can be done in bed…and, really, you could do that one in bed if you really wanted to stand on yours. I also planned the sequence so the poses become more and more relaxing as you go on. First, you'll loosen up muscles in your neck, shoulders, and hips that may have gotten tight over the day. Then, you'll relax into the final few poses so you'll be ready to fall asleep in no time.
Read through the poses in the sequence, or scroll all the way down to watch the 17-minute video of the Gentle Relaxing Bedtime Yoga Sequence!
Gentle Relaxing Bedtime Yoga Sequence: The Poses
Disclaimer: I am a yoga teacher, but I'm not your yoga teacher. Always practice yoga mindfully and if you have any questions, consult with your teacher. AND, if you have any injuries, be sure to consult with your medical professional before following a yoga sequence or routine, particularly one that targets any injured areas of the body you might have.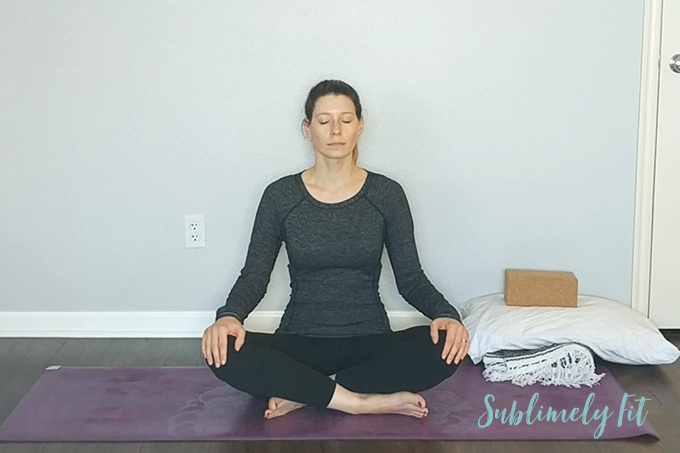 Easy Seated Pose
I started out this sequence in Easy Seated Pose to help center myself before getting into the sequence. That allowed me to take a moment to focus on clearing my mind and drop my thoughts. You can also set an intention here to relax and turn off your mind as you go through the sequence.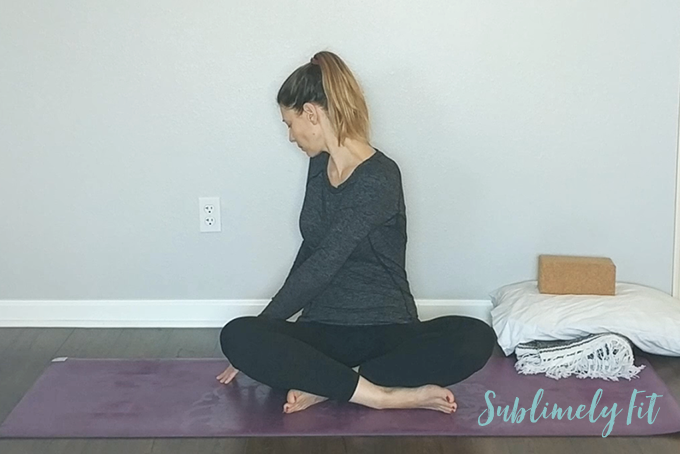 Easy Seated Twist
If you're like me, your back and shoulders get really tight throughout the day, especially if it's been stressful. But, if you're trying to wind down after a big day, big twists may just wake you up. A gentle twist like this Easy Seated Twist lets you gently loosen up tight muscles in your upper back and shoulders. But, it doesn't stimulate you too much, so you can keep relaxing throughout the sequence.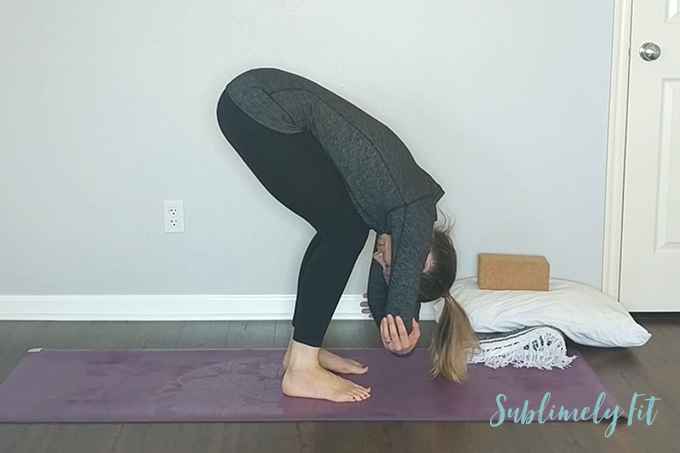 Rag Doll Pose (Standing Forward Fold Variation)
Rag Doll Pose (a Standing Forward Fold variation) is the only standing pose I have in this sequence. I wanted to include it because 1), it's technically an inversion, which helps the body relax, and 2) it's great for releasing the hamstrings and back. You can also gently nod your head up and down and side to side to help release some tension from your neck. (It feels so good to loosen up your neck after a long day working at a computer!)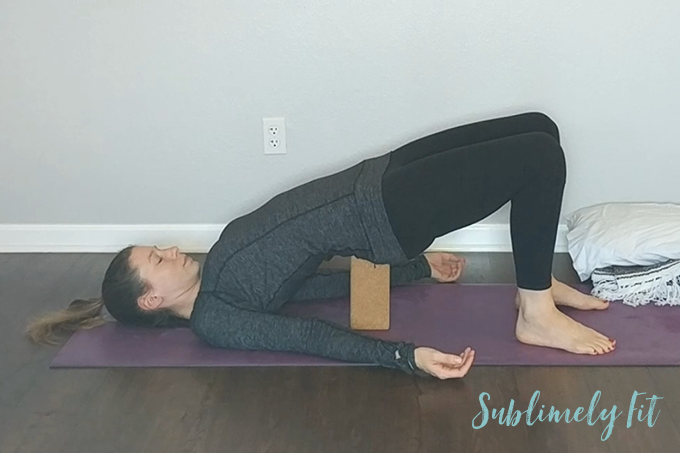 Supported Bridge Pose
Regular ol' Bridge Pose can be slightly stimulatory because you actively activate your quads and glutes to lift your hips. So, if you have a yoga block or another supportive piece of furniture (like a stool) that's a similar height, grab it for this one. Slide your block (or other support) under your sacrum (the flat part of your hips above your tailbone). That support feels amazing, and it helps you loosen up the front side of your body, especially your hip flexors and chest. Plus, this pose can be very relaxing, making it a perfect part of this gentle relaxing bedtime yoga sequence.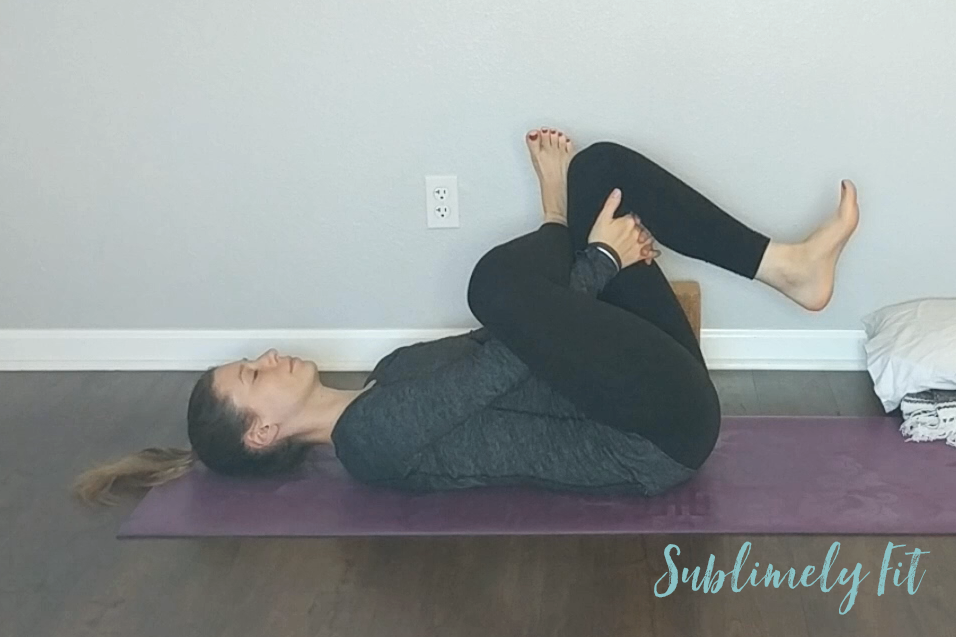 Reclining Pigeon (Reclining Figure 4 Pose)
I love Reclining Pigeon as a gentle way to open the hips. Plus, you can easily change the intensity of the pose by bringing your legs closer to or further from your chest. And, it's easy to do in bed, too. So many of us spend a lot of time sitting during the day, which can cause your hips to get tight. Repeat this pose on each side and you hips will feel much happier, helping you feel more relaxed.
Seated Thread the Needle Pose
I find this variation of a standard Thread the Needle Pose to be a little more relaxing than the other. But, if your hips are really tight, you can always try the original version. The big benefit to this pose is that it helps you loosen up your tight shoulders. If the muscles around your shoulder blades are tight (or if you have knots there like I do), this pose will feel great. That's the biggest reason this pose makes it into my Gentle Relaxing Bedtime Yoga Sequence.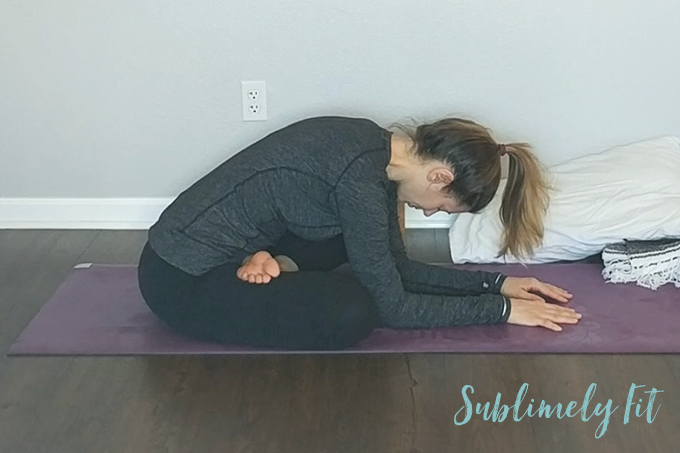 Seated Half Lotus Forward Fold
You've started to open your hips with Reclined Pigeon. Seated Half Lotus Forward Fold helps you take things a little further. We carry so much stress and emotion in our hips. So, by opening your hips, you should be releasing some physical and emotional tension, which will help you relax and get ready for bed.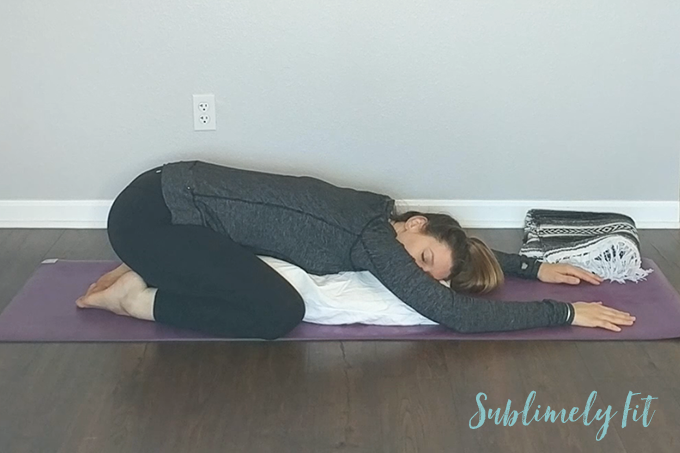 Child's Pose with Pillow
After you've stretched your tight muscles, helping you release some tension from your body, it's time to really relax. Child's Pose is also a gentle hip opener, and it's incredibly relaxing, too. (There's a reason why so many babies and toddlers naturally sleep like this.) I like to make the pose even more relaxing by placing a pillow beneath my head and chest. You can let your arms reach out above you, or you can reach for your heels for a supported Embryo Pose.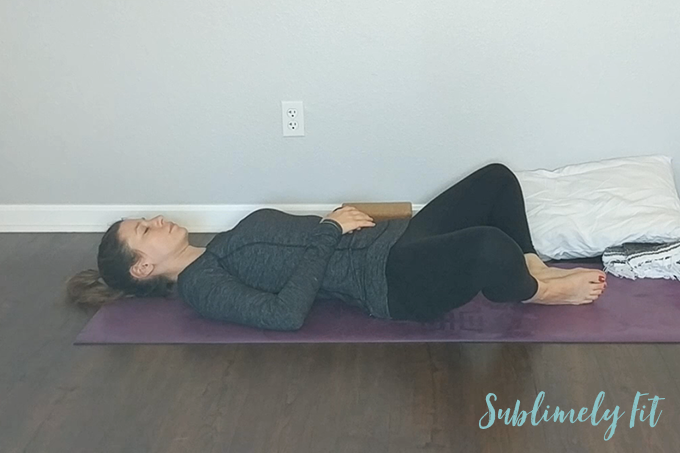 Reclined Bound Angle Pose
Reclined Bound Angle Pose is very relaxing. You let yourself melt into the mat as gravity helps you gently open your hips. If this feels like it's too much of a hip opener for you to relax, place a block or a pillow under one or both knees. The extra support under your knees may help you relax a little more. Remember, the #1 thing you want to be doing in this Gentle Relaxing Bedtime Yoga Sequence is winding down from your day and relaxing!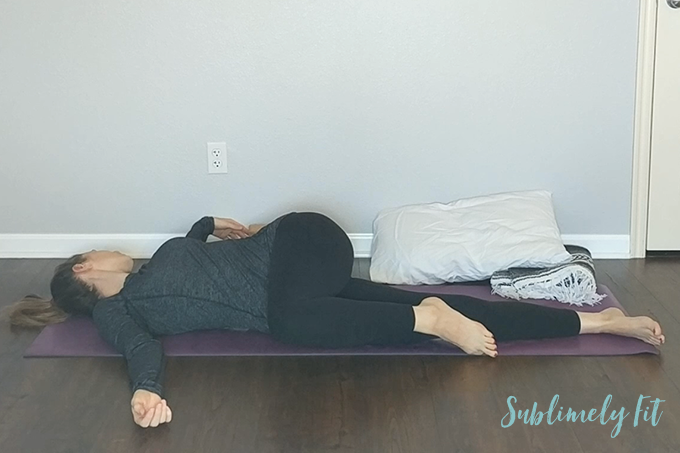 Supine Twist
To open through the middle and lower back, I like to throw in a Supine Twist. It's a nice way to release any extra tension from the back. And, this pose just feels great, too! It's a perfect final mini gentle stretch before surrendering and releasing when you're ready to drift off to sleep.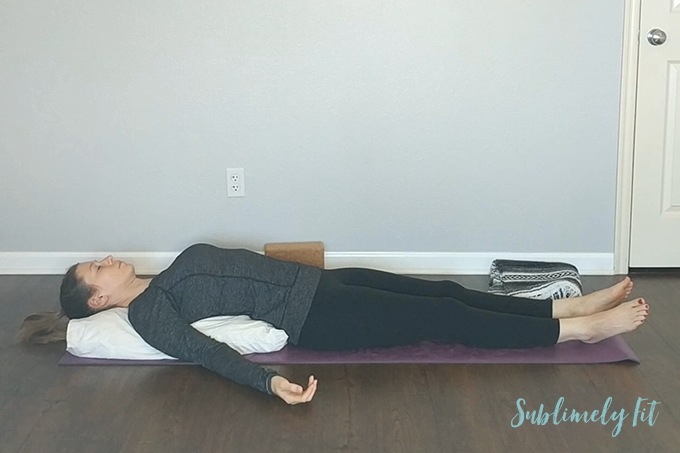 Corpse Pose
Corpse Pose or Savasana is the perfect way to end this Gentle Relaxing Bedtime Yoga Sequence. I sometimes like to place a pillow, folded blanket, or yoga bolster under my head and down my spine so I can open my heart a little more. (That helps balance out my shoulders after spending a day hunched over a computer keyboard.) Once you find a comfortable position, focus on letting your body melt into your mat (or bed) and releasing any final thoughts. You can focus on your breath, or you can repeat a mantra to yourself silently in your mind. ("Relax" might be a nice choice.) Let your day melt away from you as you surrender into the pose. This final relaxing pose will help you be ready to fall asleep in no time.
Video: Gentle Relaxing Bedtime Yoga Sequence
Be sure to subscribe to the Sublimely Fit YouTube Channel!