I am a really big fan of restorative yoga as a recovery tool for runners. Running naturally tightens muscles and connective tissue, so restorative yoga is a great way to slow down and help loosen up that tightness. Plus, restorative yoga is also a great way to gently get blood moving through muscles, which can help with recovery after hard runs. So, to help you use yoga as a recovery tool, I created a 25-Minute Restorative Yoga Sequence for Runners that I'd like to share with you today. Read more about it in the text of this post, or scroll all the way down for the video.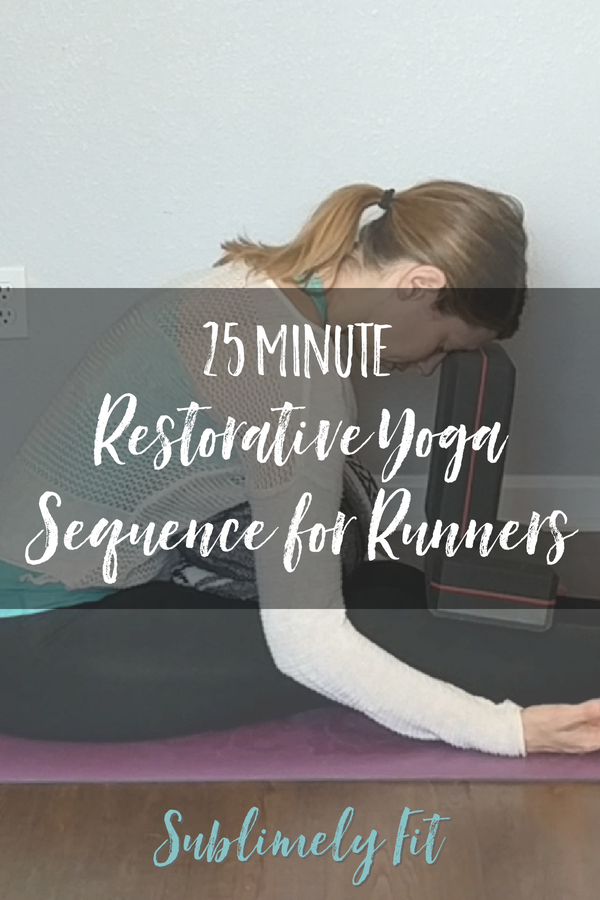 Why Restorative Yoga is Great for Runners
The first time I tried restorative yoga, I wasn't a fan. My mind wandered A LOT and I spent a lot of time thinking about when we were going to get out of the pose we were in. I knew that deep stretching helped my body feel better, but as a runner, I was used to going, going, going. I didn't know how to slow down and enjoy being still for a while.
FREE Hip Openers for Runners Guide
Sweet relief for your tight, sore hips!
Get the best hip-opening yoga poses sent straight to your inbox.
I imagine most of you are familiar with the Eastern dichotomy of yin and yang. Yang is high energy and bright and vibrant, and fast. Yes, running is a very yang exercise and sport. Yin is more still and quiet and relaxing. Restorative yoga and its close sister yin yoga are great examples of yin exercises. Most runners are hooked on fast, stimulating exercise. It's hard for them to slow down, which is why many don't totally enjoy restorative yoga when they first try it.
The thing is, restorative yoga is GREAT for runners. First of all, it's good to practice something so yin when you spend most of your exercise time doing something that's so yang. Your mind and body need that time to slow down when you push yourself so hard.
Plus, restorative yoga is different from many other types of yoga. With restorative yoga, you hold the poses for a longer period of time. That allows your muscles to really open up, and it helps you begin to lengthen your connective tissue, too. Tight tendons and restrictive fascia (the connective tissue around your muscles and beneath your skin) can actually limit mobility, which can lead to imbalances and injuries.
Restorative Yoga vs. Yin Yoga
I mentioned above that restorative yoga is similar to yin yoga, but they are a little different. Many people will actually use the two terms interchangeably, and to someone on the outside just coming to a yin or restorative class, they might feel identical. Both usually hold yoga poses for several minutes at a time. But, there's one major difference that you should know about.
Yin yoga experts say that you should practice the poses with cold muscles. When the muscles are cold (i.e., you haven't done a warm up), they aren't as flexible, so much of the lengthening and opening comes from the connective tissue of your body. That can actually be really good for you, but that means that you need to be more cautious as you come into your practice. Spend a lot of time listening to the signals your body sends to you. Don't push yourself in the poses, or you could injure a muscle.
Many restorative classes will begin with a gentle warm up. (The video I created below does this.) I actually prefer doing a few sun salutations before practicing yin and restorative yoga poses because I know getting my muscles a little warmed up reduces my injury risk. That might mean that my connective tissue doesn't get as affected as it would with yin yoga. But, I prefer to play it safe.
Curious about yin yoga? I highly recommend reading (affiliate links) Yin Yoga: Principles and Practice by Paul Grilley and The Complete Guide to Yin Yoga by Bernie Clark. These two books have taught me a LOT about yin yoga, and I even pull a lot of that knowledge in while teaching restorative classes. If you're a yoga teacher or are thinking about becoming one, you definitely should pick up at least one of these books.
Restorative Yoga Sequence for Runners: the Poses
Disclaimer: I am a yoga teacher, but I'm not your yoga teacher. Always practice yoga mindfully and if you have any questions about fitting poses to your individual body, consult with your teacher.
I know from talking with a lot of you, you're pretty crunched for time. That means that most weeks, you don't have time to sit down and do 60 minutes of restorative yoga, and you definitely can't fit it in multiple times a week. I wanted to create a restorative yoga sequence for runners that was shorter in length to make it easier for you to fit in.
But, that made my job of designing the sequence harder. If you're going to hold each pose for several minutes, that means I can only fit so many poses in. So, I chose what I think are some of the most important restorative yoga poses for runners and put them in this sequence.
They are: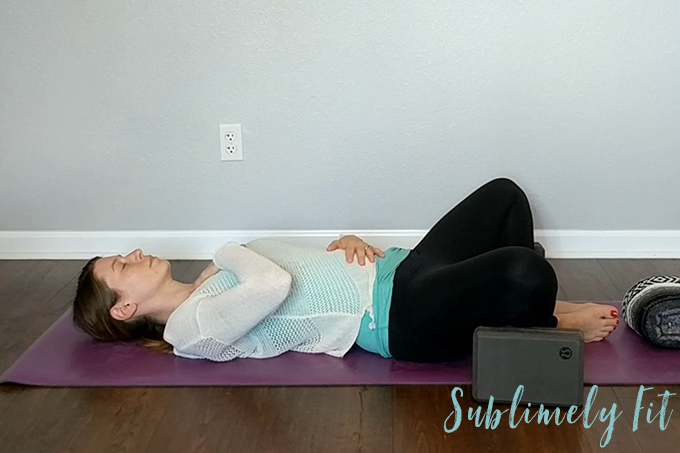 Reclined Bound Angle Pose (Supta Baddha Konasana). This one is great for opening up the inner hips and thighs. Runners spend a lot of time stretching their outer hips and glutes, but often neglect the inner hips, so I think it's important to regularly practice poses like this one.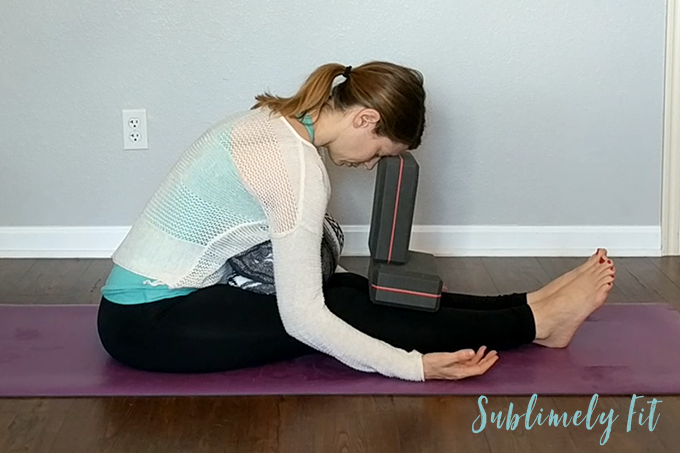 Supported Seated Forward Fold (Paschimottanasana) helps open your hamstrings. And, it may help lengthen some of your glutes and outer thigh muscles, too, depending on how tight you are. Props are your friend in this one. They'll help you support your upper body so you can relax into the pose. (No yoga blocks? Grab a stack of books, folded blankets, or some firm pillows.)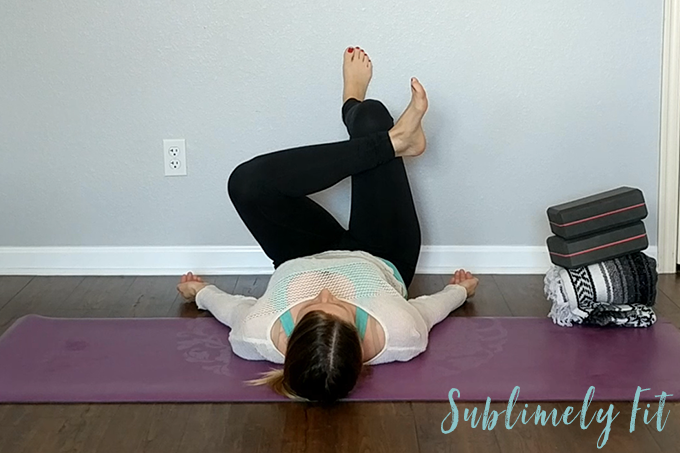 Reclined Pigeon Pose (Supta Kapotasana), or Reclined Figure 4 Pose is great because it's less intense than traditional Pigeon Pose, but doing it at the wall means you're not having to actively pull your legs toward you for the stretch. Bring your seat closer to the wall for a more intense stretch, and further away to back off a bit.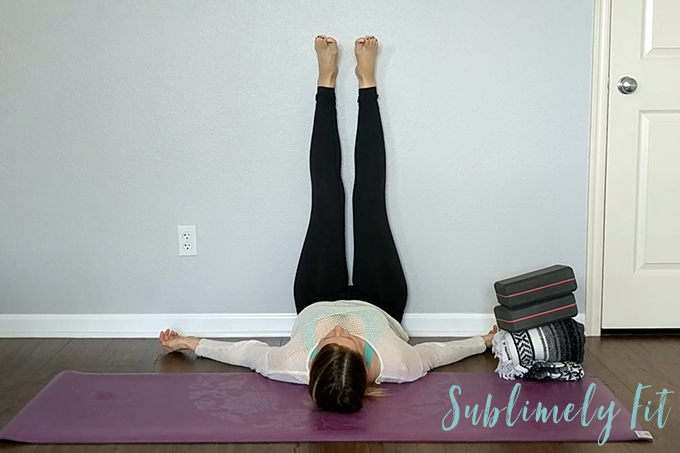 Legs up the Wall Pose (Viparita Karani) is a favorite among runners for good reason. It helps you drain the blood and lymph from your legs, which then gets replaced with fresh oxygen- and nutrient-rich blood after you bring your legs down. I think runners can benefit from doing legs up the wall every day, and even a couple of times a day after hard runs.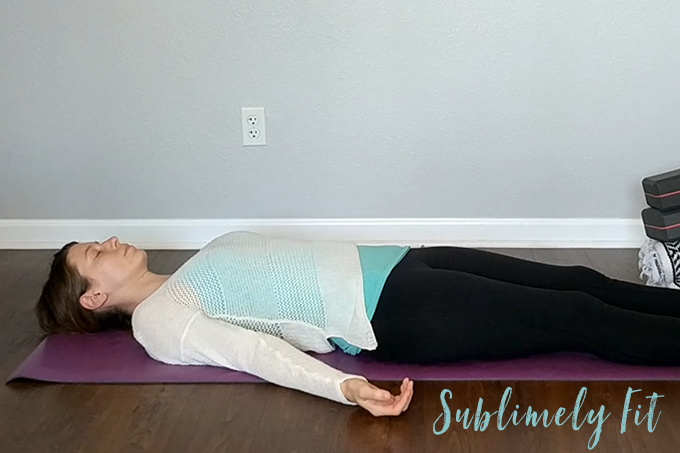 Corpse Pose (Savasana) is at the end of many yoga classes for a reason. It's the perfect way to seal your practice and to really let yourself relax and let go. Plus, it can be a great way to use gravity to help pull your shoulders back into place if you find yourself hunching over during your runs. Corpse Pose may seem boring, but it's a pose that runners definitely shouldn't skip.
25-Minute Restorative Yoga Sequence for Runners Video
Ready for some restorative yoga? Here's the short Restorative Yoga Sequence for Runners I filmed for you. Make sure you subscribe to the Sublimely Fit YouTube channel to get alerts when my new videos go live!
Linking up with Running on Happy, Crazy Running Girl, Coach Debbie Runs, and Train with Marc for Running Coaches' Corner.