Disclaimer: I was provided the pine nuts I used for this recipe as a #NOWWellness Ambassador with NOW Foods.
One of my most favorite things about summer is all of the delicious fresh produce that's readily available. I love going to farmer's markets and seeing what's ripe that week, and I'm always up for picking up whatever produce happens to be on sale that week because it's in season. (Right now, it's cherries, and they're delicious!)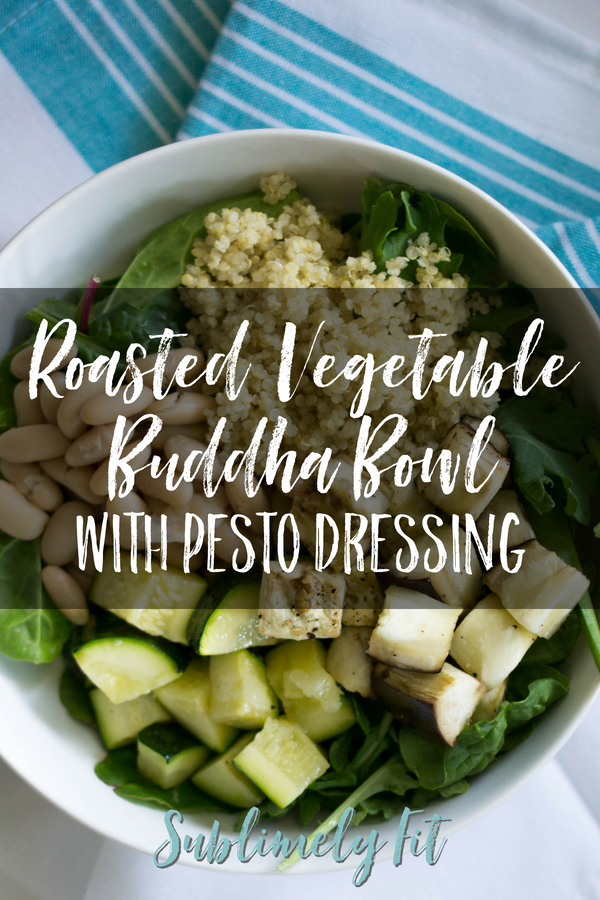 FREE Hip Openers for Runners Guide
Sweet relief for your tight, sore hips!
Get the best hip-opening yoga poses sent straight to your inbox.
I was inspired to create this roasted vegetable Buddha bowl by all of the fresh produce rolling in, including the basil that I used to make the pesto sauce. I really love a good creamy dressing for a Buddha bowl, so I added some tahini to the dressing. The flavors of the pine nuts and the sesame seeds in the tahini blend together really nicely.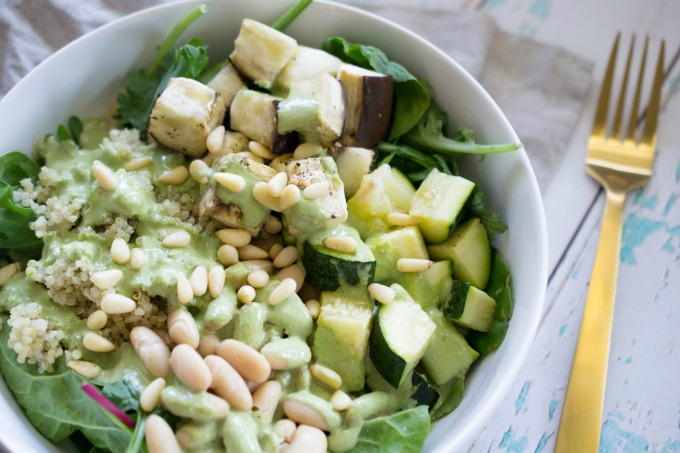 I looove pine nuts, so I was excited to get to try out the organic pine nuts from NOW Foods. Since going on a tour of their facilities in April, I've become a huge fan of NOW Foods and their products. I know that they only use the highest quality ingredients, which means I know I can trust that I'm getting a quality product to feed to my family. Everything they produce goes through a rigorous testing process to make sure it is what it should be (e.g. that I'm not getting some weird not-pine nut), that it's actually organic (no pesticides or insecticides), and that it's safe to eat (no illness-producing bacteria).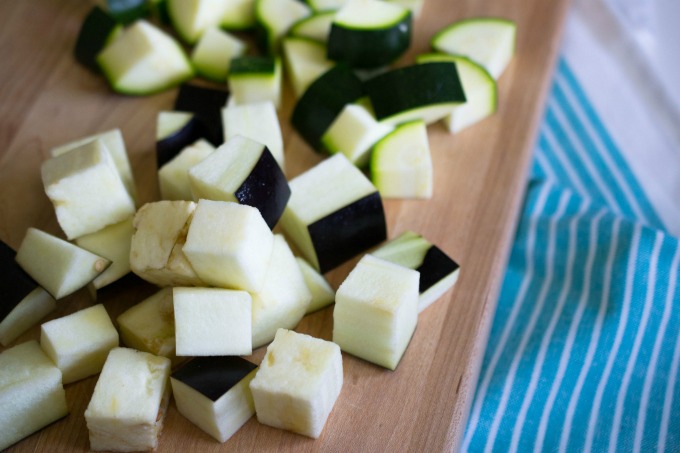 I started out by cutting eggplant and zucchini into cubes. I chose those veggies because I thought they would pair well with the pesto, but you could choose to roast any veggies that you like. I tossed them with olive oil, then placed them on a baking sheet. They were lightly seasoned with salt and pepper, then I tossed them in the oven to roast.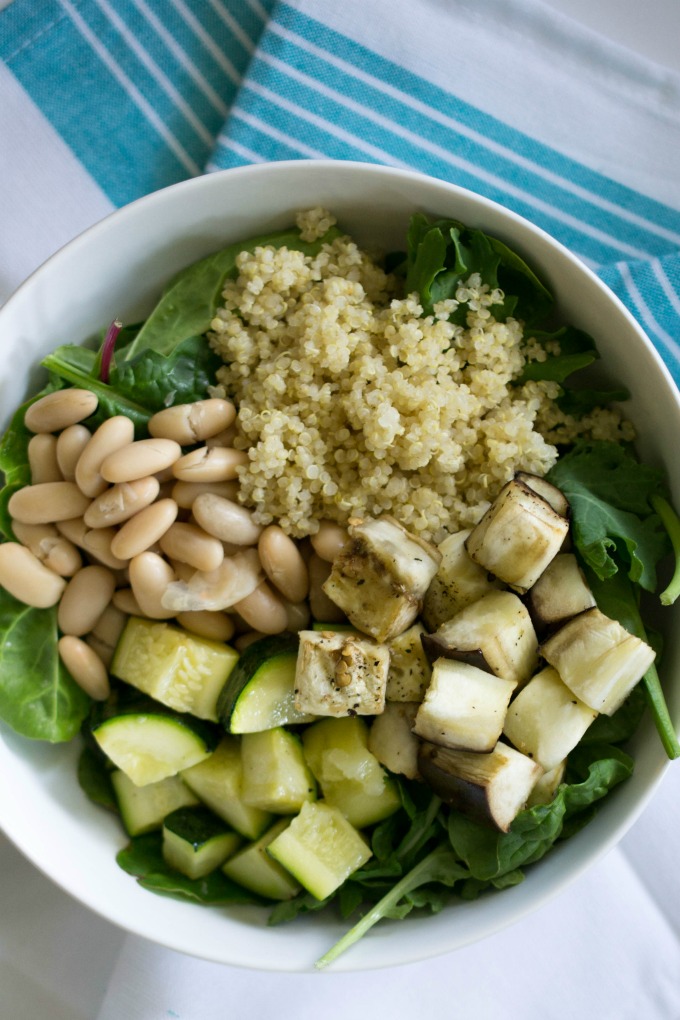 While the veggies were roasting, I made the dressing. I generally go for pretty simple dressings when I make them because I just don't have the patience for anything complicated. I just tossed all of the ingredients into the cup for my Nutri Ninja blender (the one that's made for smoothies) and blended everything up. Quick and simple, both to make and to clean up.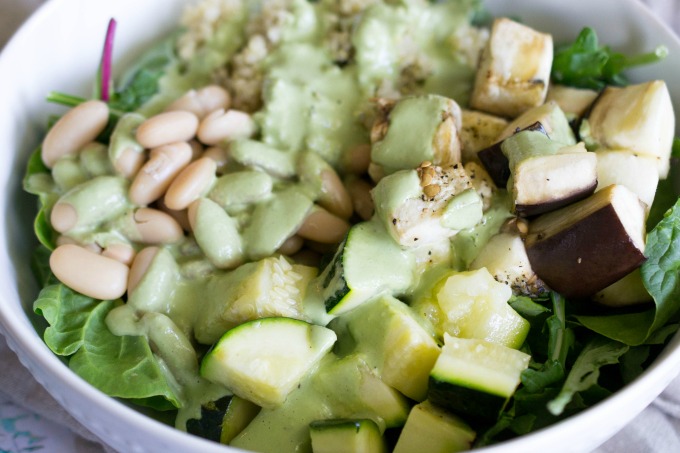 Once the veggies were ready, I simply topped a bed of power greens with the vegetables, along with some cannellini beans and quinoa for protein. I drizzled the dressing over the bowl, then topped it with some more pine nuts. (And then, let's be honest: I added a few more pine nuts because I love them.)
If you're ready to make your own roasted vegetable Buddha bowl with pesto dressing (and as many pine nuts as your heart desires), here's the recipe:
Roasted Vegetable Buddha Bowl with Pesto Dressing
2017-06-30 07:15:49
Serves 4
Ingredients
1.5 lb zucchini
1 large eggplant (about 1.5 lb)
2 c cooked quinoa
2 15.5 oz cans cannellini beans
8 c power greens or spinach
1/4 c tahini
1.5 c basil, loosely packed
2 tbsp olive oil
1/2 c NOW Foods organic pine nuts, plus extra to top the bowl
1/4 tsp salt
1/2 c water
Instructions
Preheat the oven to 350°F.
Cut the zucchini and eggplant into cubes. Toss with olive oil, and season with salt and pepper if desired.
Place zucchini and eggplant on a baking sheet and roast for 30-40 minutes.
Cook the cannellini beans, set aside.
Blend the tahini, basil, olive oil, 1/2 c pine nuts, salt, and water to make the dressing. Add extra water if needed until dressing is the desired consistency.
When the vegetables are done roasting, assemble the Buddha bowl. Top a bed of power greens with the cooked quinoa, cannellini beans, and roasted vegetables.
Top with the pesto dressing.
Optional: sprinkle pine nuts over the top of the bowl.
Sublimely Fit https://sublimelyfit.com/