On my Instagram account, I've been talking about how to manage healthy living with a busy schedule. In addition to running the blog, I also help many clients with various copy writing and editing projects, and I'm raising a toddler with just a few hours of childcare a week. That means I need simple, nutritious recipes in my arsenal so I can eat food that makes me (and my tummy) feel good without spending a ton of time preparing it. Enter my Simple Fig Arugula Salad with Maple Balsamic Dressing.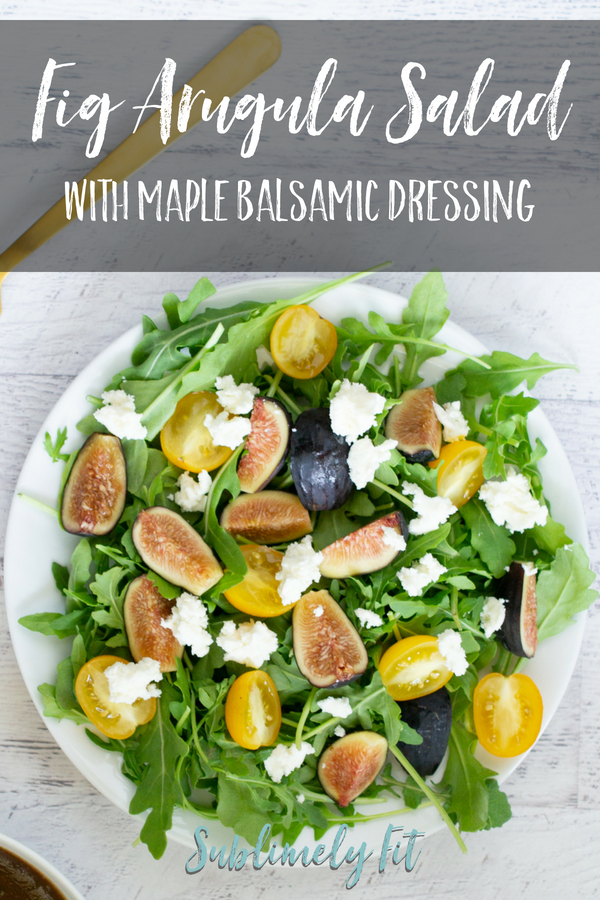 Figs are one of my favorite seasonal treats. I get so excited whenever I find fresh figs at the grocery store, and immediately snatch them up and use them to make pretty much every dish I can until they're all used up. I love their lightly sweet, subtly earthy flavor that's just unlike any other fruit out there. Plus, they're full of fiber and minerals like potassium, calcium and magnesium.
FREE Hip Openers for Runners Guide
Sweet relief for your tight, sore hips!
Get the best hip-opening yoga poses sent straight to your inbox.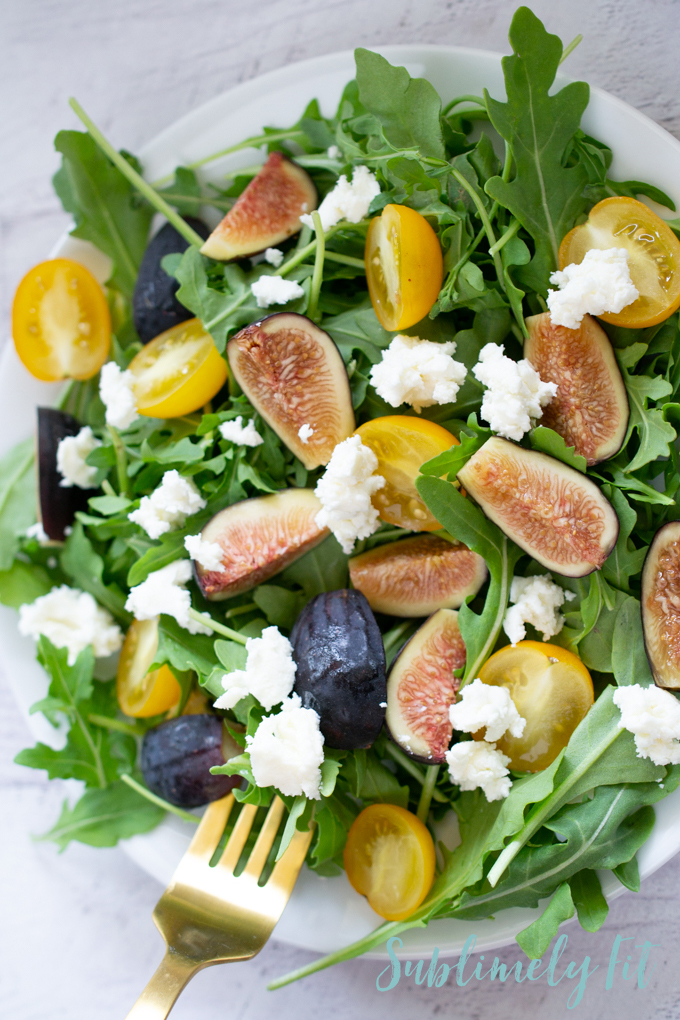 For this recipe, I used black mission figs, which I think are slightly sweeter than some of the other fig varieties. But, you could use any variety of figs for this recipe (including my favorite, the brown turkey fig). You could also make this Fig Arugula Salad with Maple Balsamic Dressing with dried figs, although it will change the texture slightly.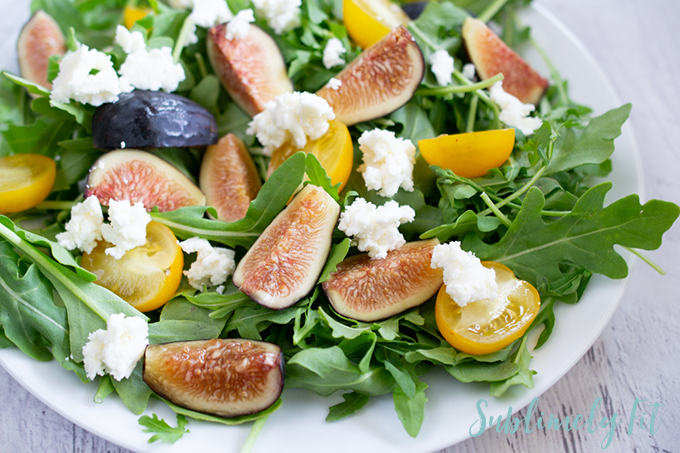 If you're vegan or you're avoiding dairy, you could always make the salad without the goat cheese. But, I think it really adds a nice salty, creamy flavor that perfectly compliments the peppery arugula, tart tomatoes, and sweet figs. It also helps cut through the acidity of the balsamic vinaigrette. But, if you prefer to omit the goat cheese (or if you simply can't find any at your grocery store), this salad will still taste great without it.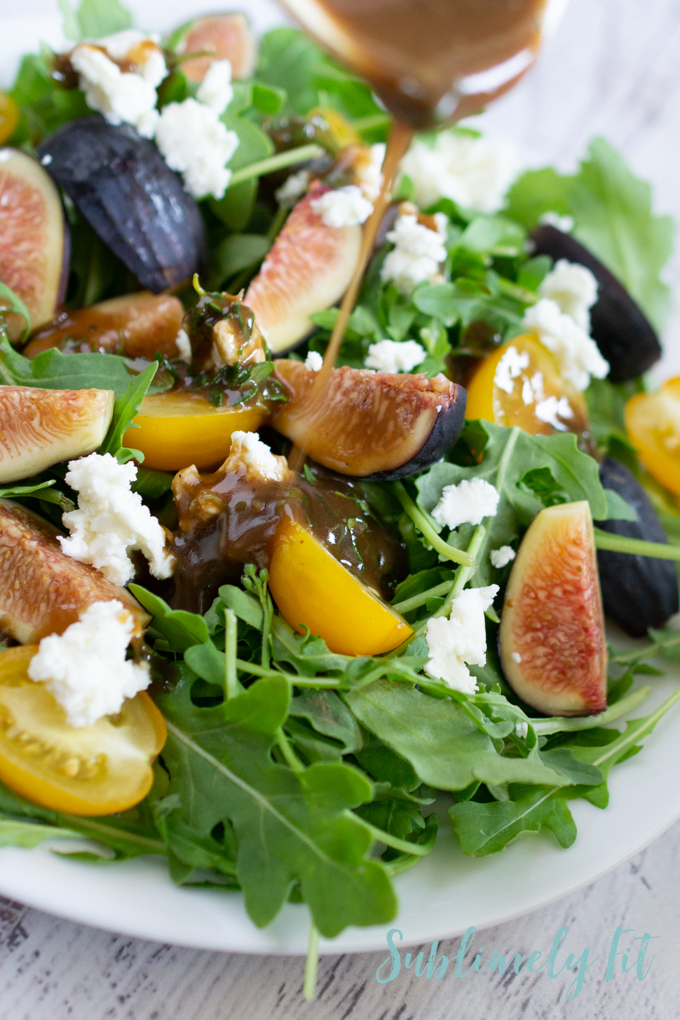 I also kept the dressing ridiculously simple—just a basic balsamic vinaigrette with a little sweetness from maple syurp. (Make sure you use real maple syurp!) Again, I don't have time for complicated, so I needed a dressing I could throw together quickly.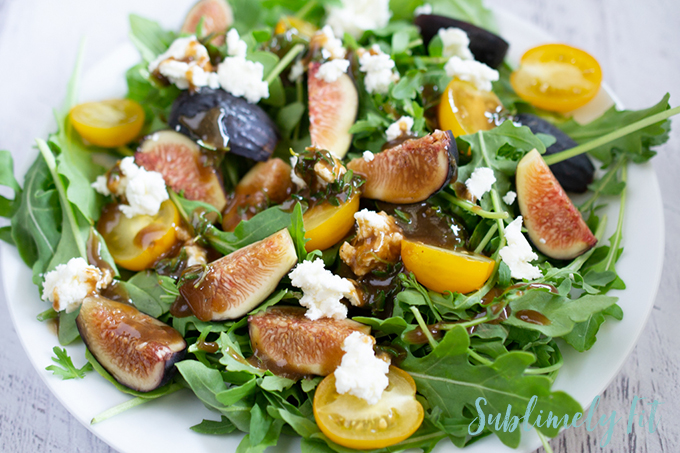 So, there you have it: my Simple Fig Arugula Salad with Maple Balsamic Dressing. If you're really busy and you need quick, simple, healthy meals like I do, I think you're really going to enjoy this salad.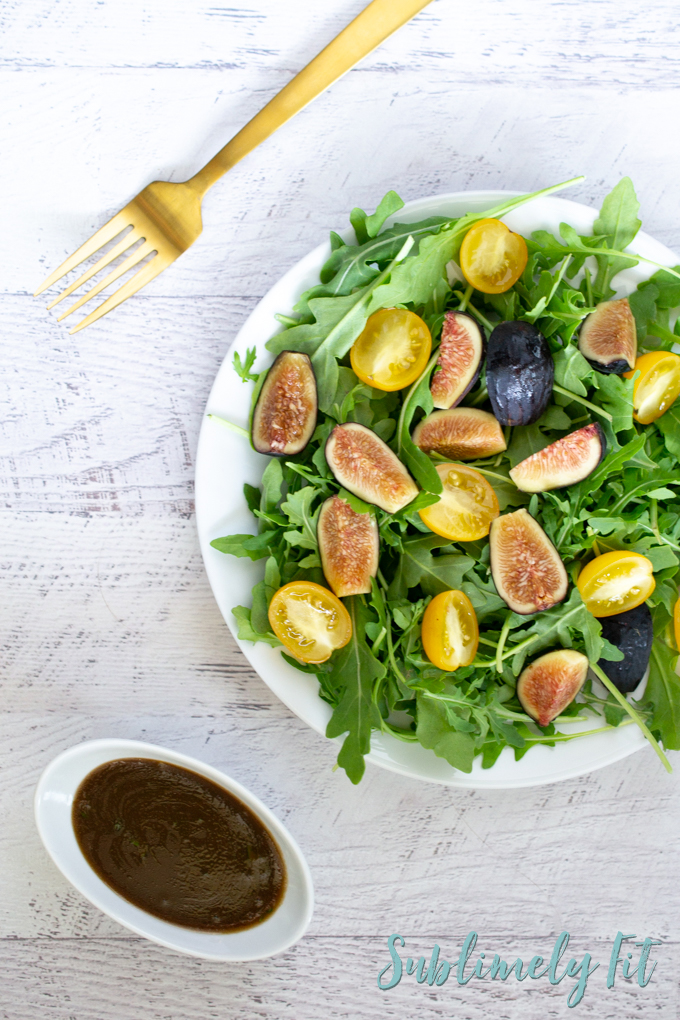 Fig Arugula Salad with Maple Balsamic Dressing
2018-08-25 09:43:16
Serves 4
A quick, healthy salad featuring the rich, lightly-sweet taste of figs.
Ingredients
4 cups arugula, washed
10 figs, cut into quarters
1 cup yellow cherry tomatoes, cut in half
1/4 cup goat cheese, crumbled
1/4 cup balsamic vinegar
3/4 cup olive oil
1 tbsp. real maple syrup
Salt and pepper to taste
Instructions
Arrange arugula in a bowl or on a plate.
Top arugula with quartered figs and halved yellow cherry tomatoes.
Sprinkle goat cheese crumbles over salad.
Optional: season salad with salt and pepper.
Whisk together balsamic vinegar, olive oil, and maple syrup. (Or, shake these ingredients together in a shaker bottle.) Add salt and pepper to taste, if desired.
Drizzle balsamic vinegar over salad directly before serving.
Notes
You may have leftover balsamic vinaigrette. Store it in the refrigerator for up to a week if you'd like to use it on other salads!
Sublimely Fit https://sublimelyfit.com/