Staying motivated while training for a race can be tough. You know the race is coming up, so you feel the pressure to train so you're ready, but things can come up, staying in bed can seem more enticing. What's even more difficult is staying motivated when you're done racing for the year, or maybe you just don't have the desire or money to sign up for a race. How do you stay motivated when you don't have an impending race to propel you.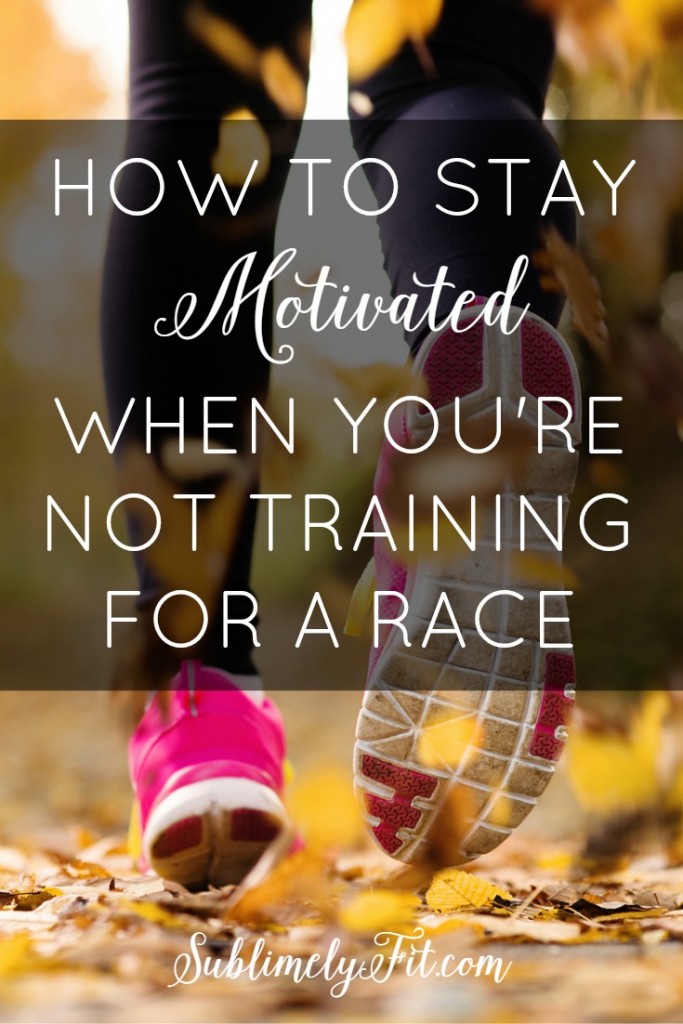 I used to run multiple half marathons a year, and for several years I'd train for at least one marathon, too. All of that racing was affecting my sanity and my checking account, so I decided to cut way back this year. At times it's been a struggle to get out the door when I don't see a race on my calendar, so I wanted to share some of the tricks I've used to stay motivated even when I'm not training for a race.
FREE Hip Openers for Runners Guide
Sweet relief for your tight, sore hips!
Get the best hip-opening yoga poses sent straight to your inbox.
Run for fun. This is probably the best thing I've done in the past few years for my running. I got so stressed out about hitting certain paces during my runs to make sure I was on track to hit my goal race time. It made me completely miserable. So, I took a step back and started focusing on really, truly enjoying each run. I took the time to appreciate the beautiful scenery around me, to watch the seasons change. Concentrating on loving every run made running so much more enjoyable, which helped me want to go out and run more.
Don't think about it, just go. One of the reasons I like to run in the morning is that I can pop out of bed and get on the road as soon as possible, without taking time to talk myself out of going. If I wait until late afternoon to run, I have a much bigger chance of deciding that I'd rather do more important things like nap. Once it becomes habit, it's much easier to stick with a running routine.
Find someone to help keep you accountable. Find a friend, enlist your significant other, or find some friends on social media. Even if you don't have a running buddy, finding someone to help keep you accountable can really help. This is one reason why hiring a running coach over following a free plan can be a huge help. Or, you could try finding a running group to join. Search for local running clubs or ask if your local running specialty store offers free group runs. This is especially true if you're an extrovert and love being around groups—looking forward to chatting with friends on a run might be just what you need to get out the door.
What gets you out the door when you're not racing?