Happy Monday, everyone! I made it back from BlogFest in one piece, if being very tired and sore counts as being in one piece. 😉 I had so much fun and I can't wait to share some of my experiences with you later this week, but today I wanted to write one of my Motivation Monday posts because I was so incredibly motivated and inspired by BlogFest and everything I learned and heard.
Going to BlogFest as a smaller blogger is a little scary and intimidating. There are some bloggers who come who have big followings and who are really inspiring, and it's easy to feel like you don't belong. I had a really great chat with Tasha, my BlogFest buddy, before I left, where she gave me a little kick in the butt to put myself out there and start believing that I'm doing some good stuff on my blog and on my social media accounts, even if I don't have as many followers as some of the other bloggers at the conference.
That discussion with Tasha leads me to my quote for the week:
FREE Hip Openers for Runners Guide
Sweet relief for your tight, sore hips!
Get the best hip-opening yoga poses sent straight to your inbox.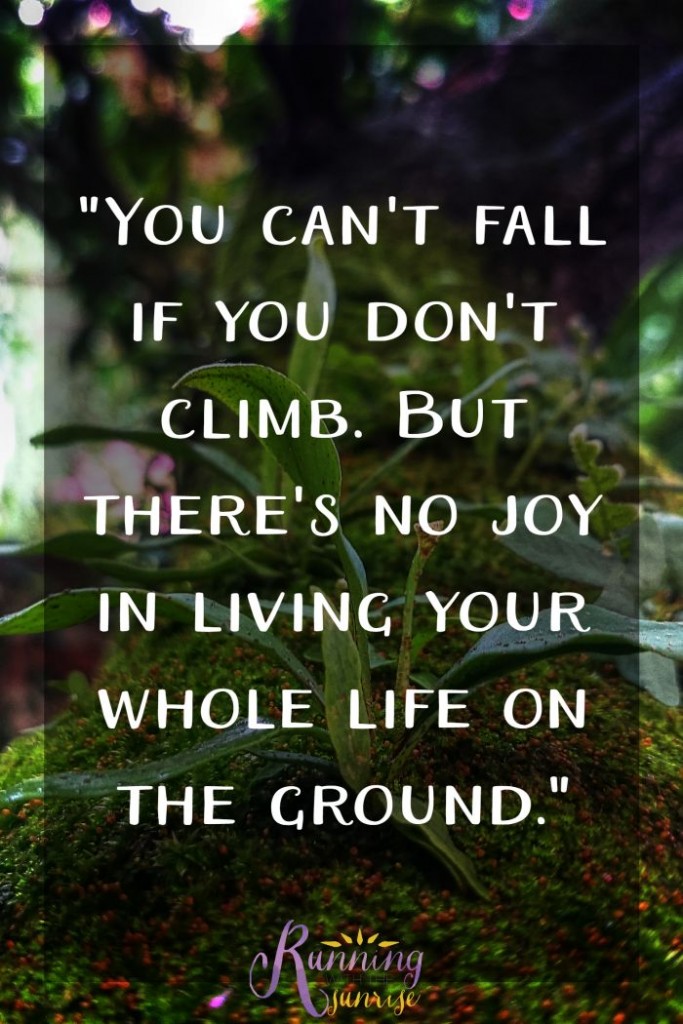 I didn't immediately meet Tasha when I first came to BlogFest. I walked into the conference room with up my roommates (holla, Jen, Ange, and Suz!) and we sat somewhat toward the back, which I was okay with because I was a little nervous about meeting all of these big names behind the blogs that I really love and admire like Katy Widrick. When you meet someone whose blog you've been fangirling over for months or even years, it can be a little intimidating to meet them in person.
I was experiencing some serious impostor syndrome. My big goal for my blog is to encourage people to get and stay active and to help them find a healthy lifestyle that's sustainable for them, and maybe to inspire them at the same time. Here I was surrounded by all of these amazing, articulate women who were doing exactly what I want to do. They were changing lives. How could I possibly measure up? Why in the world why they ever want to talk to me?
Luckily everyone there was incredibly nice and kind, so I quickly realized that I didn't need to be worried about feeling awkward around them. I was able to introduce myself to my BlogFest buddies Kylie and Tasha, and chatted with a lot of other great bloggers, too. If you follow me on Twitter, you might have seen the tweet I sent about my final conversation with Tasha, a quote from her that I hope I will remember for a long time. She told me to stop sitting in the back, that I needed to be up front, that I needed to believe in myself, stand up for myself, and tell myself that I am worthy and that I, too, can meet my goals to inspire and touch lives.
Parting words from @hiphealthychick: "Stop sitting in the back. You need to be up front." So much love for this woman. 💜

— Beth (@RunWithSunrise) July 19, 2015
So, that brings me back to today's quote. We may feel like we're not good enough to achieve those really tall, pie in the sky goals. We think maybe we'll be good enough to try in a few months or years, or maybe we should set our sights a little closer to home. But, if we don't believe in ourselves and maybe take that leap of faith, we'll never see how far we can really go.
My challenge to you this week is the same challenge that Tasha gave to me: Go out and make it happen. Don't sit in the back. Charge forward and make your dreams come true.
What's a big goal you want to reach for?
What's something you can do this week to reach that goal?
How was your weekend?