I know a lot of us have trouble fitting in workouts. We have the best intentions to get to the gym, but things come up and suddenly we've gone two weeks without working out. It's easy to miss workouts if you don't have a good plan on how to prioritize them. Today I'm sharing the system that I use to take charge of my workout schedule and fit all of my training into my crazy life.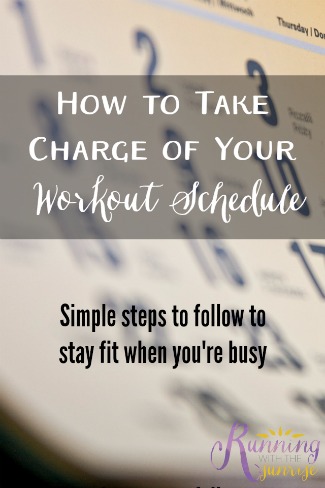 1. Find a calendar where you can schedule your workouts. I love using my Google Calendar because my phone reminds me when I have something scheduled, but even a paper calendar works if you stick with it. It's all about finding what works best for you and how you operate.
FREE Hip Openers for Runners Guide
Sweet relief for your tight, sore hips!
Get the best hip-opening yoga poses sent straight to your inbox.
2. Schedule your priority workouts. If you're training to run a race, schedule your training runs. If you just want to get active, schedule your favorite activity, whether it's using the cardio machines or going to a class, three to four times a week. These core workouts are the workouts that you absolutely need to meet your goal, whatever that goal is.
The important thing is to cement these priority workouts into your workout schedule during times when you know you'll follow through. Some people (like me) are better about working out when they wake up and immediately go work out. Others have to do it after work. You need to figure out what works best for you and how you function to find time when you know you'll stick with your workout routine. (Read more on how to become a morning runner and what to set out for runs to make morning runs easier.)
3. Schedule other workouts. Then, add in activities to your workout schedule that you'd like to do, but if you don't get them in it won't drastically hamper your ability to achieve your goals. Maybe if you're training for a marathon you'd really like to make it to a Zumba class once a week, but sometimes life gets in the way. Skipping that Zumba class won't have a huge effect on whether you finish your marathon or not. I personally code these extra workouts in a different color to help keep things straight.
4. Stick to your schedule! When you're first starting out, sticking to that workout schedule can be tough, especially when you're not used to that schedule. It takes 30 days to make a habit, so really focus on sticking to your schedule for the first month. After that, you should be used to fitting workouts into your busy schedule, and things should feel more routine. You'll just know that when your alarm goes off at 5:30 it's time to head out for a run, for example.
Do you have any tips for keeping a training schedule?
Do you schedule your workouts?