I vividly remember the first time I got into Bird of Paradise pose. I was taking a yoga class at the campus gym when I was in Clemson and the instructor called the more advanced students up into Bird of Paradise without really telling us where we were going. When I stood up and hit the pose, I immediately felt strong and grounded and a sense of calm washed over me. If you'd like to try to get into your first Bird of Paradise, Svarga Dvijasana, this post is for you! I'm breaking it down step-by-step to learn how to get into this awesome asana.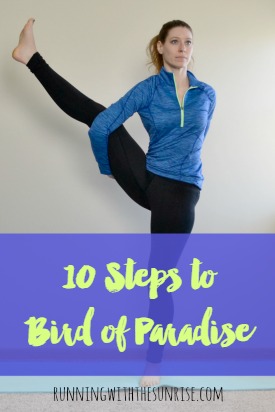 Disclaimer: I am a yoga teacher, but I'm not your yoga teacher. Bird of Paradise is a relatively advanced pose and should only be practiced if your body is ready for it. Don't try this pose if you have shoulder issues unless your doctor or yoga teacher have cleared you to do so! Consult your yoga teacher if have any questions.
Step #1: Warm Up
You can really hurt yourself going up into this pose if you're not properly warmed up. So, wait until after you take a yoga class to try this pose, or warm up with several Sun Salutations.

Step #2: Begin in Extended Side Angle Pose
After warming up, start coming into your Bird of Paradise by beginning in Extended Side Angle Pose. After you're in Extended Side Angle, focus first on opening the front hip. Play around with using the elbow of your bottom arm to push the front knee open just an inch or so. The open hip will come into play later.
Step #3: Open Your Heart
Once your hips are starting to feel open, move on to opening your heart. Really lengthen your spine and twist your breastbone up and toward the ceiling, keeping your shoulders back and down.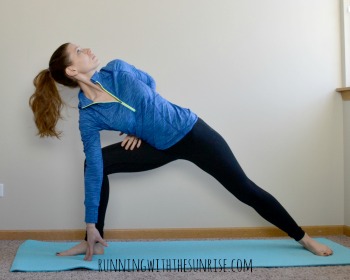 Half bind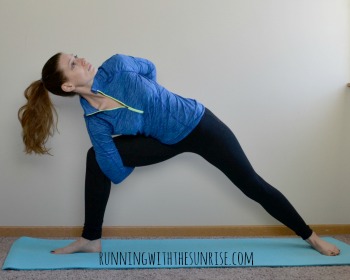 Full bind
Step #4: Take Your Bind
If you're just starting out or if you have tight shoulders, just start with taking a half bind by wrapping your top arm around your back. Then, gradually practice finding your full bind, maybe first by connecting your hands with a towel behind your bent leg. Eventually, you'll be able to come into the full bind by bringing the bottom arm under the front knee. Don't do what we call the "diaper" at my yoga studio and reach the bottom arm between the legs. You want that arm under your front thigh.
Step #5: Step Your Back Leg Up and Ground Down
When coming to Bird of Paradise pose from Extended Side Angle, the back foot becomes the standing foot. Be sure to really ground down through all four corners of that foot to create a nice, solid base.
Step #6: Find Your Drishti
This is a balancing pose, so like all balancing poses, be sure to find your drishti, or focal point. Focus on that one point to help you maintain your balance as you come up into the pose.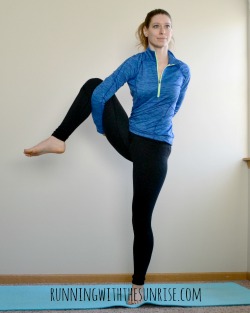 Step #7: Pull Up Into Birds with a Bent Leg
For most people, it's easiest to first come up into Bird of Paradise while keeping the top leg bent. Not everyone has the flexibility to open up the top leg immediately, and finding the right balance can be really tricky if you immediately extend the top leg. Be sure that you're keeping your shoulders pulled back and your heart is open. Don't hunch your shoulders over!
Step #8: Straighten Your Bent Leg
If you're feeling balanced, play around with straightening the top leg. Really engage the quadriceps of that top leg and either point or flex your foot. Imagine long lines of energy flowing up and down that leg! Eventually you'll have enough flexibility where you can completely straighten that front leg.
Step #9: Keep Breathing!
Remember, this is a balancing pose! Like all balancing poses, it's really important to keep breathing! Don't hold your breath.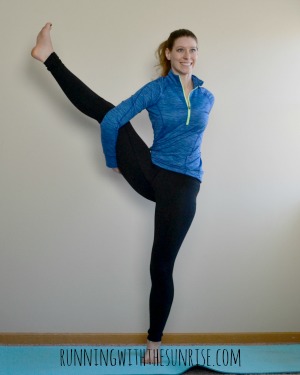 Step #10: Smile!
This is a tough pose at first, but find a little ease in your face and smile. You got into Bird of Paradise pose!
More reading on Bird of Paradise pose:
4 Prep Poses for Bird of Paradise via Yoga Journal
Bird of Paradise via Lululemon's blog
What's a yoga pose you're working on?
Tell me about a yoga pose that you worked hard to get into.
What's your favorite yoga pose?