Just about every runner dreams about running faster at some point. I know I certainly do—I've spent years of my life chasing down PRs (literally). But, it's very important to get faster the smart way, or you're likely to get injured, like I did when I first started running. Getting faster the smart way will help get you to the start and finish of your race strong and healthy, making the odds of you having a great race and getting your PR (personal record) much greater. Today I want to share my top three tips for getting faster, in the hopes that they'll help you get that PR you're dreaming of.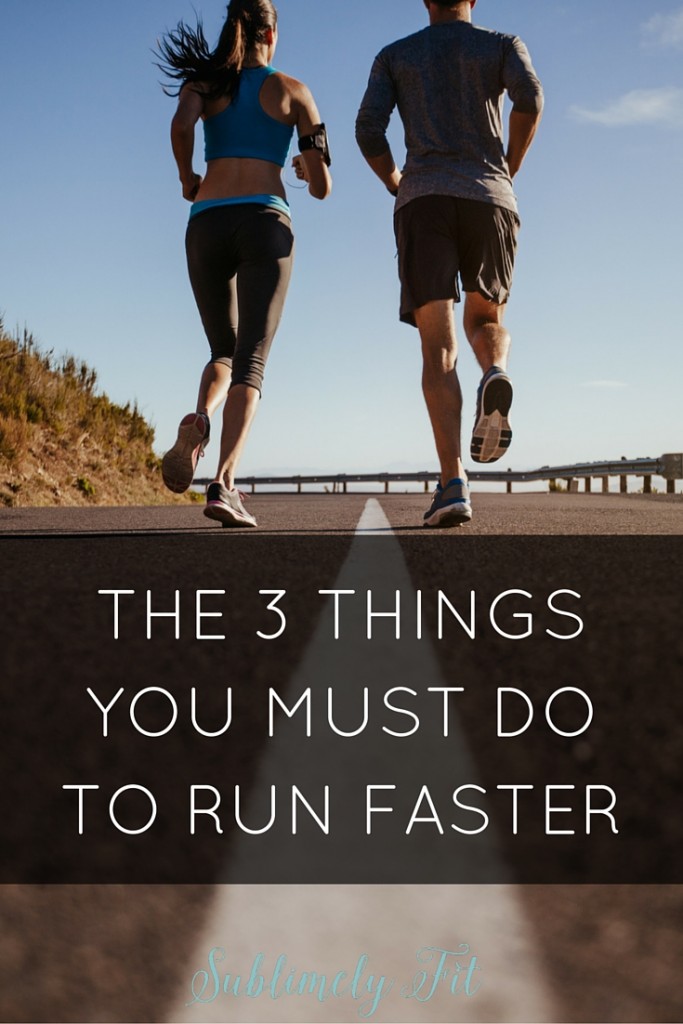 #1 – You must do speed work.
You'll never run faster in races if you don't train yourself to run faster. Speed work helps increase your maximum speed, helps your body get better at delivering oxygen to your running muscles, and it helps you run more efficiently. If you want to get faster, start to incorporate weekly speed work into your training plan, although your plan may incorporate speed work already.
FREE Hip Openers for Runners Guide
Sweet relief for your tight, sore hips!
Get the best hip-opening yoga poses sent straight to your inbox.
What kind of speed work is best really depends on what kind of race you're training for (shorter or longer distance), where you're at with your training (are you a beginner just starting with speed work, or have you been doing it for years?), and also what kind of speed work your body responds to best. There's some trial and error to things, which is why hiring a running coach can be a great idea—your coach can evaluate how you've been performing on your runs and prescribe workouts that work well for your body. This is also why keeping a training log is a great idea; you can look back and see what's worked well for you in the past, and tweak your training plan from there.
#2 – You must strength train.
Even if you nail each and every one of your speed workouts, if you get injured while training for your race, you'll really reduce your chances of getting that PR you're dreaming of. Strength training is a wonderful way to help reduce your risk of getting injured. By strengthening the muscles that stabilize your joints, you'll help your body run with proper form, which reduces injury risk tremendously. Be sure that you're strengthening your core, hip stabilizers, and feet and ankles, which all can have a huge impact on injury risk.
Here are a few great strength training routines for runners:
5 Kettlebell Exercises for Runners (from Laura at This Runner's Recipes)
5 Exercises to Strengthen Your Knee (from Christine at Love Life Surf)
DVRT Strength Workout for Runners (from Annmarie at Fit Foodie Mama)
8 Essential Strength Exercises for Runners (from Debbie at Coach Debbie Runs)
Hip Stability Exercises to Prevent ITBS & Runner's Knee (from Amanda at Run to the Finish)
Core Strengthening Yoga Poses (by yours truly)
#3 – You must do each run at the right pace.
If you want to get faster, that means you should do every run at a faster pace, right? If your plan says that you should be doing your long runs somewhere between a 10:00 and 11:00 minute mile, running at a 9:30 pace is even better, right? Wrong. Each run in a well-written training plan has a purpose, and running too fast on your easy and long runs is a great way to get injured.
I've fallen into this hole before. When I first started training seriously, I was so obsessed with getting faster that I thought I was making progress by pushing myself to run faster during my long runs. I wound up with a bad case of Runner's Knee, and my doctor told me to stick to the dreaded elliptical for a few weeks while it healed. Lesson learned.
There's a reason why easy runs and long runs should be run at an easy pace, a pace slow enough where you could speak in complete sentences to someone running with you. This slow pace is enough to stimulate your muscles to adapt to the stress of running, to make more mitochondria, the power plants of the cell, to get better at delivering blood to your muscles, and to give your muscles, tendons, ligaments, and bones time to adapt to the stress of running. If you run most of your miles faster than this easy pace, it puts too much stress on those muscles, tendons, ligaments, and bones, which dramatically increases your risk of getting injured. If you're constantly tempted to run faster than you should, consider running with a heart rate monitor, which can help you stay in the right effort zone.
Best of luck to you as you train to get faster! Train smart and you'll get there!