I have a lot of changes going on in my life right now. I'm switching jobs and just finished my training to become a Pure Barre teacher yesterday afternoon. My mind is swimming with information and possibilities. It's scary to leave what you're used to, what's comfortable, but sometimes that's exactly what you need to take things to the next level.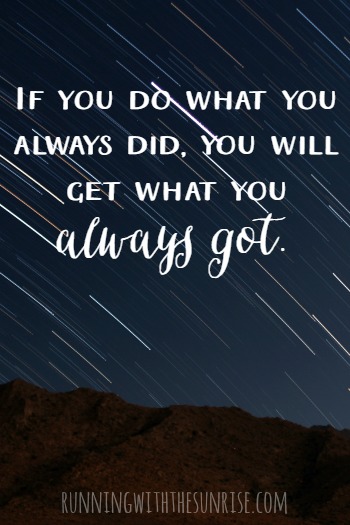 Sometimes what we need to really take the next step in our lives is a change. If you feel like you're stuck in a rut, maybe it's time to make a change in your life. If you keep doing the same things, you don't have a reason to make any changes, for better or worse. Making a change can be a big gamble, but when you feel like things are stagnant, sometimes you just need to take a big leap.
FREE Hip Openers for Runners Guide
Sweet relief for your tight, sore hips!
Get the best hip-opening yoga poses sent straight to your inbox.
Maybe your running is stuck in a rut and you add in an extra speed workout, or you change the kind of speedwork you're doing. In writing training plans, many coaches will prescribe a training stimulus for a few weeks, then they change that stimulus a bit so that the body is constantly getting new challenges.
Those new challenges are what allow the body to get faster and stronger. If you're constantly doing the same workout, your body just gets used to the status quo and plateaus. You need to change things up to keep improving things. It's great for fitness, but is also a really great metaphor for life. Sometimes you need a change to keep improving your life.
When's the last time you made a big change in your life?
Do you vary your fitness training?
Do you love or hate change?