Fall is upon us, which means it's almost time for Thanksgiving Day Turkey Trots in the US! Turkey Trots are a great way to get in some exercise before a big day of eating, and they're a wonderful way to start running and develop healthy exercise habits before the holidays. Today I'm sharing an 8 week Turkey Trot training plan, along with my best tips for first time Turkey Trotters.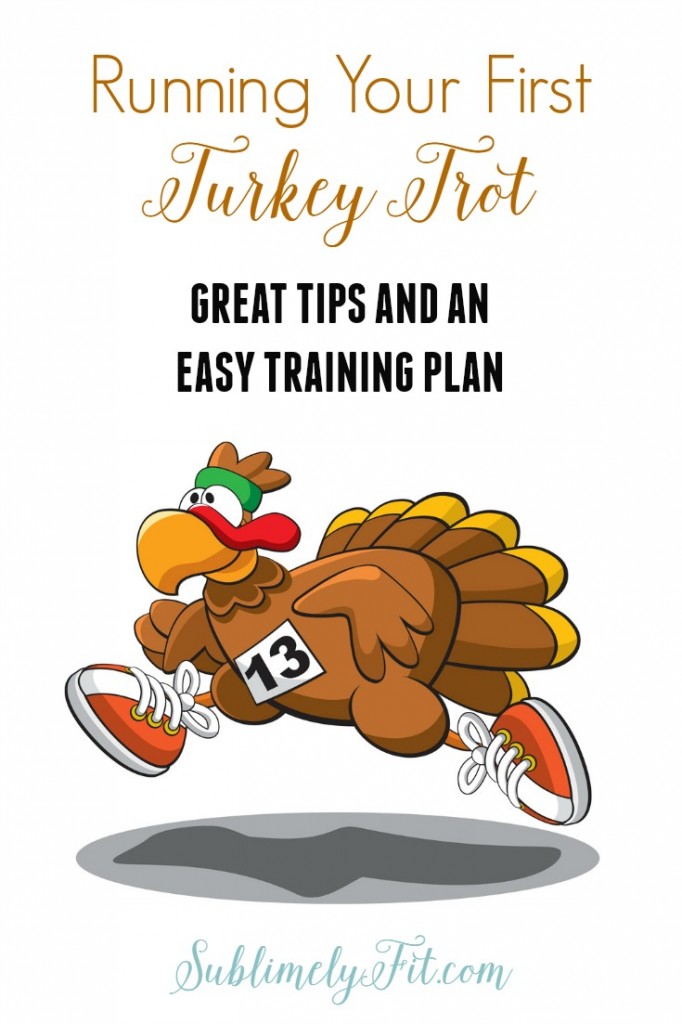 How to prepare for your Turkey Trot
First things first: sign up! Some popular Turkey Trots fill up quickly, so it's wise to reserve your spot. Also, for many of us, having the firm commitment of signing up for a race is great motivation to train. It's easy to back out if you haven't actually registered for the race. Consider getting family or friends to sign up to run the race with you—running a race with others is a lot of fun, and knowing others expect you to run with them can be great motivation to keep you on track with your training.
FREE Hip Openers for Runners Guide
Sweet relief for your tight, sore hips!
Get the best hip-opening yoga poses sent straight to your inbox.
With any running training plan, you want to make sure you're running at least three times a week. Run any less than that and your body doesn't get used to running because you're not running enough. For runners who are just starting out, I suggest starting with three runs a week, adding a fourth when your body is ready for it. Cross training, such as cycling or using an elliptical, is a great way to gain fitness without the impact of running.
The 5K Turkey Trot Training Plan
I'm a big advocate of the run/walk method for new runners. Interspersing walking with running will allow you to keep going for longer periods of time, and it helps you gradually build up to running for extended periods of time. Depending on your fitness level, you could start with alternating 30 seconds of slow running with 30 seconds of walking, adding in more walking if this is too difficult, or adding in more running if you're at a higher fitness level.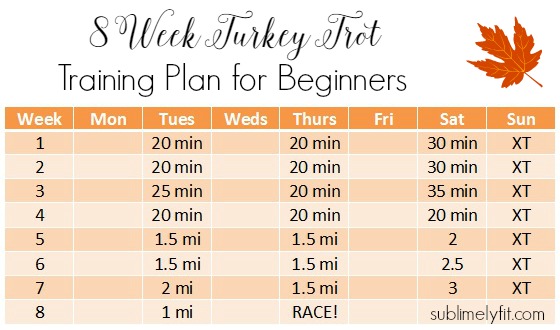 I suggest training by time for the first half of the training plan. Don't worry too much about how much distance you cover; instead, focus on how you feel as you run. You should try to stay at a comfortable pace overall, one where you feel like you could have a conversation with someone running with you. You may work a little harder during your run segments if you're building fitness, but you shouldn't be huffing and puffing, especially during your every day training runs. The primary goal for this training plan is to get you across the finish line. Switching to running by mileage in the second half of the training plan will help you make sure you can cover the 5K distance on race day.
I'm suggesting at least one day of cross training, such as cycling or even walking, which will help you build up your cardiovascular endurance. If Sundays are a better day for a longer run for you, you could switch Saturday and Sunday and cross train on Saturdays. Likewise, you could always modify the training plan and do your longer endurance workouts on any day of the week.
Tips for Race Day
Your first race is a special experience, so be sure to enjoy it! I recommend getting to the race early to get an idea of where everything is located—the start line, port-a-potties, etc. This is particularly true for larger races. You may also want to look at the race's website and see if they've posted a course map that you can look at ahead of time so you have a good idea of what to expect along the course.
Some general race day etiquette:
If you're running the race with a group of friends or family, don't run more than two abreast. It's considered rude to block the route for faster runners trying to pass you.
If you're walking, step over to the right side of the road so runners can pass you. It's also a good idea to quickly look behind you before you switch from a run to a walk to make sure you're not stopping right in front of another runner.
Many races now allow headphones, but running with headphones can reduce your awareness of the people around you, and traffic, too. If you absolutely must run with headphones, consider using only one earbud or keep your music turned down low enough that you don't lose touch with your surroundings.
Best of luck you as you run your first Turkey Trot!
Any questions about training for your first Turkey Trot?
Have you ever run a Turkey Trot?
Veterans: Any tips for first time turkey trotters?