First, a big thank you to all of you who left kind words and feedback on my marathon recap post. It didn't go as I had hoped, but I really believe that if I learned something from my experience, crossing the finish line at any pace was a success. It's been a little over a week since the race, which has given me some time to really think about what I learned from my marathon, and I wanted to share those thoughts just in case they might help any other runners out there.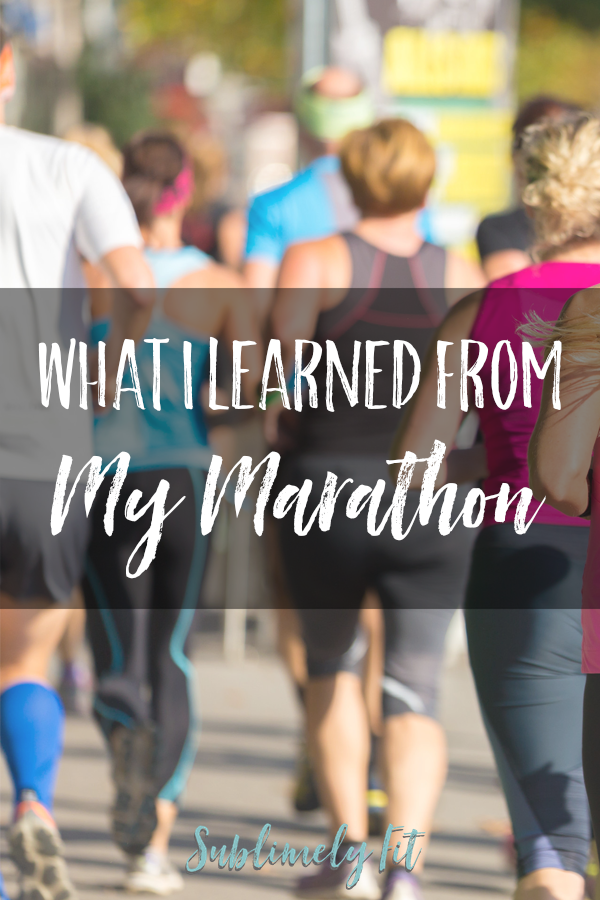 Respect the Distance
This was my third marathon finish and the fourth that I've fully trained for. I knew I was nowhere near PRing, but I thought that I could run the marathon at long run pace. My training for my second marathon was terrible–I probably averaged 20-25 miles/week–but I still finished in under 5 hours. I suppose that made me a little cocky about where my training would get me with this marathon. Bottom line: a marathon is a marathon, which is a really long distance to run!
FREE Hip Openers for Runners Guide
Sweet relief for your tight, sore hips!
Get the best hip-opening yoga poses sent straight to your inbox.
Fueling is Very Important
I started out my 3 day carb loading plan relatively, but I didn't eat enough and well enough the day before my race. Add to that only having Gatorade and a gel before the marathon and I had set myself up for a bad race. I don't have more than a gel before going on a long run, but then again, I don't usually do a 26.2 mile long run. I should have been smarter about what I ate and making sure I had enough calories to carry me through the race.
Higher Mileage Works
For marathon training, running higher mileage really does work. I trained for my first marathon (my PR) running around 55 miles per week. My PR marathon went perfectly and I really felt good. I ran around 30-35 miles per week for this race and I don't think it was quite enough to get me in good shape to really run the marathon. It was certainly enough for me to just finish, which was my goal, but if I decide I want to go for another PR, I'll definitely need to up my mileage.
Running with a Pace Group Can Help
I ran my other marathons with a pace group. What I loved about running with the pace group is that you had a built-in group of new friends to chat with and encourage each other toward a common goal. It gets lonely out there when you're running for 26.2 miles. Pace groups also helped me run the first half of the race at an appropriate pace. It's tough when a pace group goes out too fast (that's happened to me, too), but on the whole I've been very pleased with the groups I've run with.
Marathoners: What have you learned from your marathons?
What's the best piece of marathon training advice you've received?
How do you fuel before a big race?