If you've been running for a while, or even if you've been doing a good amount of reading about running, you've probably heard about tempo runs. But, you might be asking yourself, exactly what is a tempo run and why would they benefit my training? Tempo runs can make running at certain faster speeds feel easier and they can make you a better, faster runner. So, let's get into the details of tempo runs.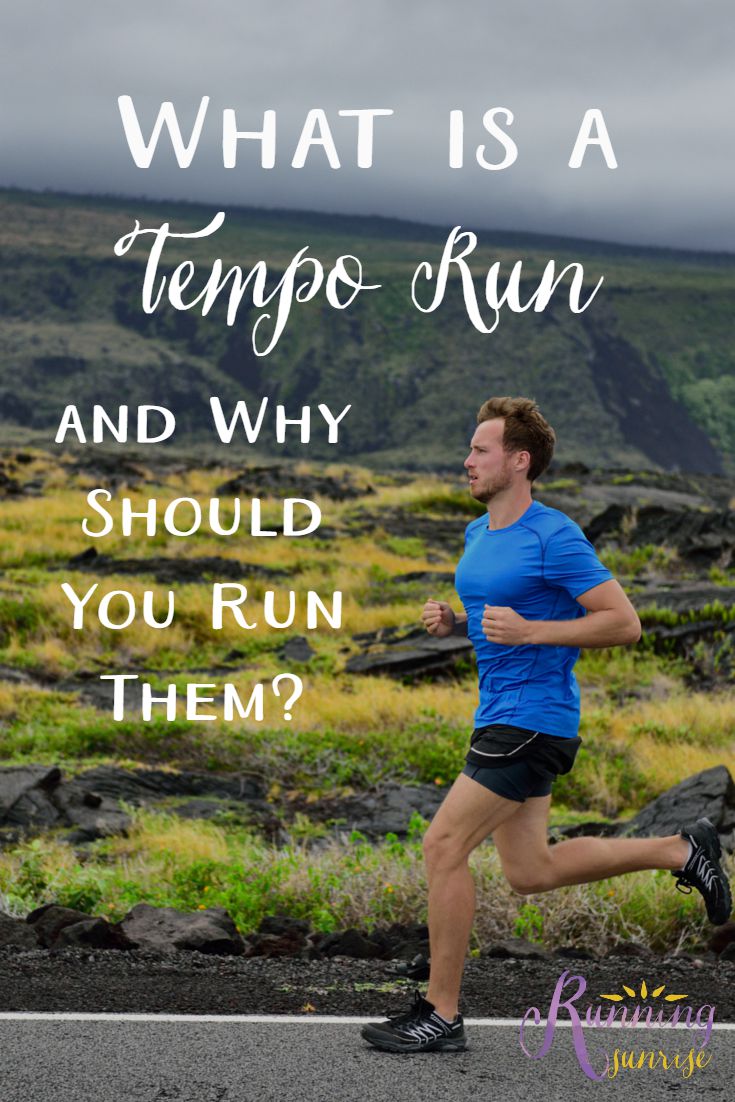 What is a tempo run?
A tempo run is a run at sub-maximal pace, usually for 20 to 30 minutes at tempo effort, although occasionally a little more. Your tempo pace is the fastest pace that you can hold for an hour, or generally somewhere between 10K and half marathon pace for most runners. A lot of people describe tempo pace as "comfortably hard;" you should feel like you're getting a good workout, but you shouldn't be huffing and puffing like you would at the end of a 5K. Most runners will include a weekly tempo run in their training if they're trying to get faster, with a one to two mile warm up and cool down.
FREE Hip Openers for Runners Guide
Sweet relief for your tight, sore hips!
Get the best hip-opening yoga poses sent straight to your inbox.
You can use pace calculators like the McMillan calculator to estimate your tempo run pace based on recent race times. Or, you can use a heart rate monitor to find tempo effort, which is personally my favorite way because I know my body's getting the right training stimulus, even if I'm a little slower because I'm tired or any other reason that my pace might vary a bit from day to day. For a tempo run, your heart rate should be somewhere between 75-85% of your maximum heart rate.
Why should I add tempo runs to my training?
Now that I've answered the question, "what is a tempo run," you're probably asking yourself why runners are so in love with them. The technical answer: tempo runs help you improve your lactate threshold, or the threshold when your muscles switch from aerobic metabolism to less efficient anaerobic metabolism. (Sorry, I have a PhD in Biological Sciences—I love getting technical!)
Okay, so what does that actually mean? Aerobic metabolism, or metabolism that uses oxygen, is far more efficient than anerobic metabolism, which occurs when there's no oxygen around. When your muscles are consuming oxygen more quickly than it can be delivered by your bloodstream, your muscles start to switch over to that less efficient anaerobic metabolism. Simply put, with anaerobic metabolism, you get less energy out of each molecule of glucose, the basic sugar molecule that your body uses for energy. Your muscles also start to produce lactate and lactic acid when you switch to anaerobic metabolism, which interestingly may not be as bad for athletes as we used to think it was, but that's a topic for another post.
When you increase your lactate threshold, you're increasing the speed at which you can run before your body starts to accumulate lactate in the muscles. Effectively, you're making it easier to run at faster paces. Running faster also tells your body to run more efficiently, although short bouts of faster running like strides may help you improve your running economy a little better.
Runners: do you include tempo runs in your training?
Running coaches: do you prescribe tempo runs for your athletes?
Any questions about tempo runs that I didn't answer?