I credit mindful movement for totally changing my life. Before, I was a little ball of stress running around, spending most of my time feeling totally frazzled. I'd always been the kind of person who was "in my head" all the time, so I was used to thinking a lot. I was used to thinking too much. I didn't know how to turn off my thoughts. But, thanks to mindful movement, that's a skill that I've learned and that's had a huge positive impact on my life.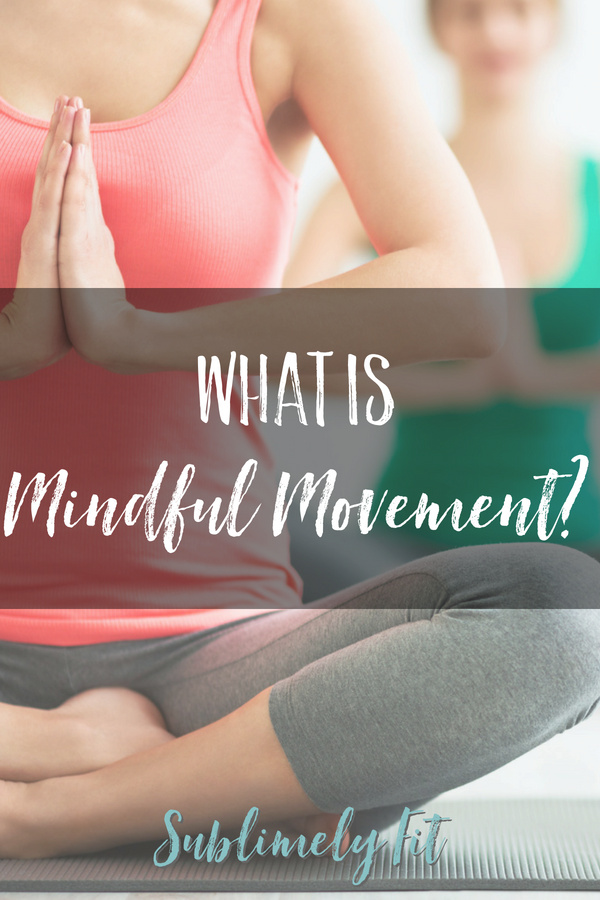 What is Mindfulness?
First things first: let's start with mindfulness. Mindfulness is a big buzz word lately because being mindful can really help you manage stress. Simply put, mindfulness is living in the present moment. Mindfulness is knowing that you are ultimately in control of your thoughts. You can choose to let go of negative thoughts and worries to help you release stress.
Here's an example: When you come home after a rough day, you can continue to stew over what happened at work, or you can choose to be mindful. You can realize that focusing on the negative things that happened in your day isn't helping you, and it's probably making your mood even worse. Instead, you can choose to focus on the present and the positive things that are happening for you right then.
What is Mindful Movement?
Mindfulness is great, but it can be really hard to learn if you're like me and you're always thinking, thinking, thinking. It's easy to be mindful for a few seconds, but if you're like most people, your mind starts to wander again after a minute or two. You have to train your brain to stay focused on the present.
Movement makes this mental training a lot easier. If you're feeling really stressed out, all of that excess negative, nervous energy can keep making you feel stressed and overwhelmed. Movement gives you something to focus your mind on so that you can let go of your thoughts. Mindful movement ultimately helps you stay present, mentally.
Does Mindful Movement Have to be Yoga?
In a word: no. I've certainly incorporated mindful movement into my running. When I need to de-stress after a tough day, I don't go on a run in order to spend more time ruminating about what happened. I really focus on just enjoying the run and what's around me. When negative thoughts start to creep back in, I actually make myself think about how I'm really enjoying the moment.
With that said, I do think yoga makes mindful movement much easier. It's built from a foundation of mindfulness. Several of the eight limbs of yoga involve mindfulness or meditation. And, yoga incorporates other things like breathing that help reduce stress, too. So although
"But I tried yoga and I didn't feel stress relief."
First and foremost, it takes a while to train yourself to let go and de-stress. But, it could be that you didn't find the right class, too. There are a lot of different ways to approach yoga, and not all of them focus on stress reduction. If you really want to use yoga for stress relief, you need to find the right style of yoga that's designed to help you bring your attention to the present moment.
So, if you've thought to yourself that yoga doesn't really help you de-stress, it could be that you didn't find the right yoga style for you. Or, it could be that you tried it every once in a while, never giving the benefits of mindfulness time to stick. With consistent practice, you will start to feel a difference.
I'm so excited to be leading a free 10 day challenge to help you de-stress and start to cultivate mindfulness. Every day for 10 days, you'll get a 10 minute yoga video to follow that's specifically designed for stress relief. Over 80 people are signed up right now, and I can't wait to see how they feel at the end of the challenge. Sign up for the free "Stress Less with Yoga" Challenge here!