I got back from my whirlwind weekend in Denver for Pure Barre teacher training very early Monday morning. (Ah, the joys of delayed flights…) I had a great time and learned a lot; now I just need to memorize all of the information they gave us. As I was reflecting on my experience, I got to thinking that one of the big things that can help make your teacher training experience great is being prepared. I packed really well for this trip, probably because I packed almost the same things that I packed for yoga teacher training and for some extent for running coach training, too. So, for any of you headed off to fitness teacher training, I wanted to share my packing list with you so you'll know what to pack for fitness teacher training!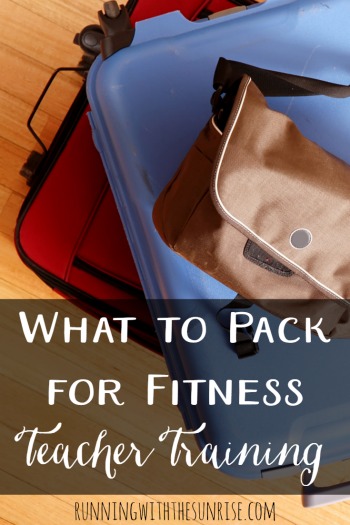 So, what should you be sure to pack for training?
FREE Hip Openers for Runners Guide
Sweet relief for your tight, sore hips!
Get the best hip-opening yoga poses sent straight to your inbox.
Office supplies. You're going to want to write down everything you can, because they'll be throwing a lot of information at you and you probably won't immediately remember it all. That's where writing everything down comes in. Be sure you have a notebook and a pen. A highlighter can come in handy, too, as can notecards if you're going to have to memorize any information.
Extra Clothes. If you're going to be getting sweaty, you'll definitely want to pack extra clothes to change in to. Depending on what activity you're doing, you may not need them, but you'll probably feel better knowing that the extra change of clothes is there if you need it.
Foam Roller. Since I was flying and didn't check a bag, I bought a Mini Grid Foam Roller
because of its small size. It was a tiny bit more awkward to use than my standard length Grid roller, but well worth having because of the small size. I'm glad I'll have it for Ragnar, and I can always bring it to the studio if I'm feeling really sore and need to get in some extra rolling.
Snacks. Make sure you pack extra snacks to help you keep your energy up. For both yoga teacher training and barre training, we practiced teaching each other, which means you'll be doing a lot of working out. Even if you don't go all out every time, you're still working muscles and you'll be hungry. Make sure you stay fueled!
Recovery drink. You'll be working out a lot. Anything you can do to help speed up recovery for the next day of training will be really helpful. I have been using Vega Sport Recovery Accelerator
a lot lately, which has been a huge help for me. I also stopped off and picked up some tart cherry juice, which can also help you recover from workouts more quickly.
Any activity-specific items. For barre training, this was sticky socks. For yoga teacher training, I needed to make sure I had my mat, and luckily my studio had blocks, straps, and other accessories so I didn't need to tote those around, too.
Face and body wipes, deodorant. Anything to help you feel like you've showered without actually stepping in a shower can be a huge help. I made sure to put my deodorant in the tote I brought with me to training every day, along with a package of Burt's Bees Facial Cleansing Towelettes
, which I also used to help wipe down my body after workouts.
Fitness teachers: did I forget anything?
Have you ever had to pack for an extended fitness event?
What items did you find were most helpful to have?