For the past few months, I've been participating in the Sweat Pink Personal Development Book Club, spearheaded in part by the lovely Ms. Tasha Edwards of Hip Healthy Chick, who is the kind of woman I aspire to be someday. In our latest book club, she was saying that she wanted to start the book club in part because all of us Sweat Pink Ambassadors are bloggers and social media influencers. So, if we work to make ourselves better, we can also work to do the same for others.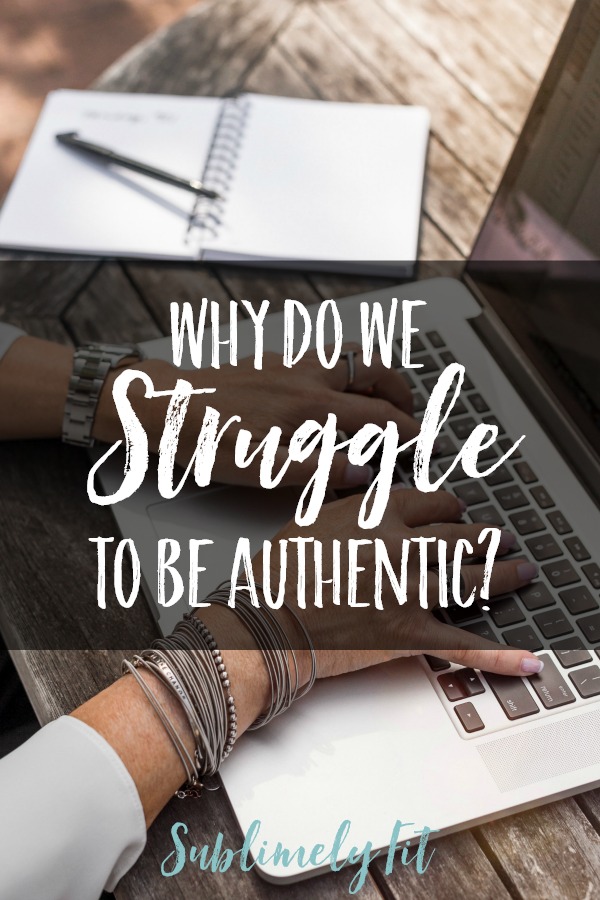 (This posts contains affiliate links. You don't pay anything extra, but when you use my link, I get a few cents to help keep the blog going so I can keep producing more free content for you. So, thank you for your support.)
This month, we've been reading Rising Strong by Brené Brown. (Well, they've been reading it. As a busy mom, I opted for the Audible version. It's the only way I can make decent progress in a book.) I've listened to it twice now, and I think it's still sinking in. I even started journaling, something I haven't done in years, to help me sift through all of the thoughts and emotions that kept coming up, things that have come up over the course of my lifetime again and again that I kept stuffing down deep into myself, hoping that they'd stay hidden forever.
Something that I keep thinking about as it pertains to blogging is the idea of vulnerability and authenticity. We're told that if you're going to be a successful blogger, you need to be authentic. But honestly, sometimes it's hard to figure out what being authentic actually means to you. Is sharing that I ate a donut being authentic and vulnerable? Yes and no. If I ate it, sure, I'm authentically sharing my life. But it doesn't get down to the true vulnerability that most of us (myself included) are so terrified to share.
For me, true vulnerability comes from talking about emotions that I don't even want to admit to myself. Emotions that society has been telling me to ignore for years, because it's not cool to be upset or sad. Emotions that I've been pushing down for so long because I thought that burying them would make me more likable, more popular. Maybe if I hadn't been so darn emotional, I wouldn't have dealt with so much heartache in teens and 20's. So many what-ifs pop up when I think about the times when I chose to express what I really felt…and the times that I didn't.
We're taught that being vulnerable or asking for what we need makes us high maintenance. Nobody wants to deal with emotions, because dealing with emotions takes time and hard work. Everyone's looking for an easy fix. I'm coming to understand that there's no easy fix when it comes to these big, life-consuming emotions that most of us try to ignore. And no, I'm not talking about crying your eyes out over an episode of This is Us. I'm talking about the real, dirty, raw emotions that come up when you have to deal with the reality that life presents you.
Before I spend too much time rambling on and on about how most of us are taught that we should just let things roll off our backs, I want to get to my point here: I think that true authenticity, and true vulnerability, comes from those emotions. Those things that we desperately want to hide from the world because they could bring judgement or criticism. Those things that would crack or tarnish the shiny veneer we put on when we put ourselves on display.
True vulnerability comes from being open and honest about the things that we'd much rather hide. True authenticity, in turn, comes from being vulnerable. It comes from sharing the side of yourself that you'd rather keep in the dark. It comes from shining a light on our flaws and exposing them, even if the whole world might see.
Vulnerability is scary. But vulnerability also brings connection. When you can be your true self, it draws people in, especially people who are like you. We're inundated by social media, but we're more disconnected than ever. When all you see is photos of people who appear to have a perfect life, or even a perfectly imperfect life, it can make you feel bad about yourself. True vulnerability, when shared, helps show you that you're not alone.
I'm making it a goal to be more vulnerable in 2018. I'm going to ask for help if I need it, even if it feels uncomfortable. I'm going to talk more about what I'm feeling, even if I'd rather just stay quiet because I don't want to make waves. And, I'm going to take the time to explore the parts of me that I'd rather hide. I'm going to work to break away from my perfectionistic tendencies. And, I hope to share it all with you.