I love answering readers' questions, and one of them I get from time to time is what poses to do for some pre-run yoga. They might have searched my website or YouTube channel and noticed that I don't have any recommendations or sequences for pre-run yoga. But there's a reason for that—I actually don't recommend pre-run yoga.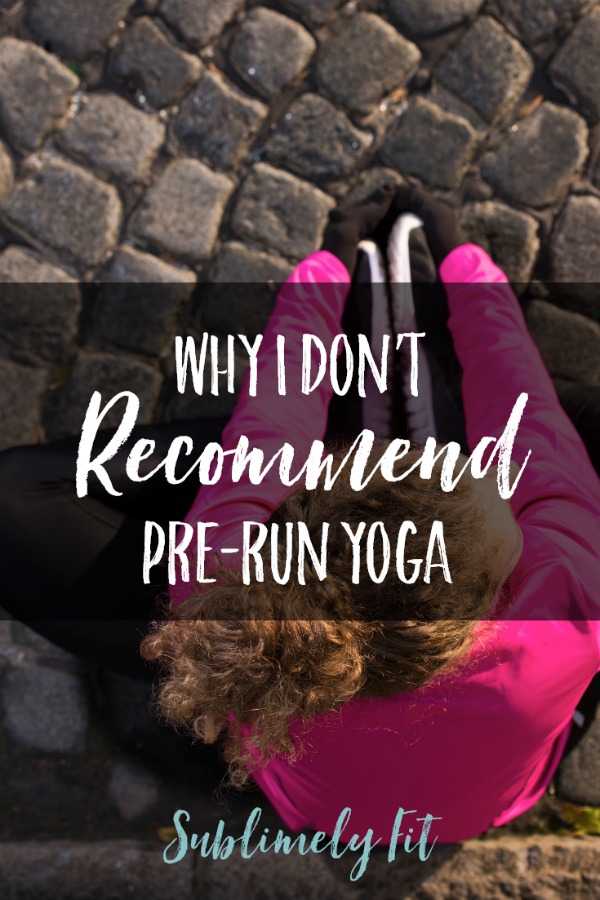 Yoga Teachers vs. Running Coaches
Someone who is just a yoga teacher, or even a yoga teacher who enjoys running, could easily recommend yoga to loosen things up before a run. Heck, they might even give you a sequence to follow. "Your hamstrings get tight when you run? Hold Gorilla pose for 30 seconds a couple of times before you run and you'll be good to go!" They figure that yoga is perfect any time of day, in any situation, because it really is beneficial in so many ways.
FREE Hip Openers for Runners Guide
Sweet relief for your tight, sore hips!
Get the best hip-opening yoga poses sent straight to your inbox.
The problem is, yoga poses are static stretches. That means that you hold them for a few seconds to a few minutes, letting your body really sink into the pose. Your muscles, tendons, and ligaments start to open, and if you stay there long enough, your fascia may start to loosen, too.
Ask a running coach and she'll likely tell you that you should avoid static stretches before you run. Dynamic stretches, or moves that help lengthen and open your body while moving, are awesome to do before a run. These would include moves like leg swings, high knees, and so on. But, in these stretches, you'll notice that your body is always in motion.
Why I Don't Recommend Static Stretching Before a Run
Dr. Beth loves to make recommendations based on science, so I'm really glad that sports scientists have conducted studies to see what types of stretching are best for runners and other athletes. That body of research generally shows that static stretching before running can decrease your running performance. You can lose some of that spring in your step, which definitely can make you slower. It could also make your legs get tired faster or make you work harder to run at the same pace.
Here are some examples:
Young and Behm found that static stretching reduced explosive force. That explosive force is what your legs use every time they rebound from the pavement to take another step. So, if you do static stretching before a run, your legs could feel more sluggish than they would have if you'd avoided those static stretches.
Nelson and colleages found that when sprinters stretched before running, it significantly (statistically) increased their 20 m sprint times. So, if you're going to be doing speed work, or even if you're going to be running a shorter race like a 1 mile or a 5K, I'd definitely recommend avoiding static stretches.
Longer distance runners, you're not safe, either. Wilson and colleagues ran a study that tested the effects of pre-run static stretching on VO2 Max (essentially a measure of how hard you're running in this instance) in endurance runners. They too found that static stretching is detrimental to running performance. The endurance runners had to work harder and use more energy to run after doing static stretches.
There are many more studies that showed similar results, but I don't want to bore you. 🙂
So Should Runners Avoid Static Stretching?
Not at all! As a runner and a yoga teacher, I love my static stretches…after my runs. I don't recommend avoiding static stretches altogether, because they really do help you loosen up tight and sore muscles. I'm a yoga teacher—I love static stretches! But, there's a time and a place for everything, and in this case, the time and place for static stretches and yoga is after your run. (In fact, I've got a great post-run yoga sequence for you here.)
Linking up with Running on Happy, Suzlyfe, Crazy Running Girl, and Coach Debbie Runs for Running Coaches Corner!