Do you follow any yogis on social media? (Besides me, of course.) I definitely do, and it seems like my Instagram feed is full of yogis practicing beautiful and seemingly impossible arm balances or sitting with a leg behind their head. I'm always inspired by these beautiful photos, and then a little voice starts to pop up in my head, saying things like, "Why can't you get into that pose?" and "You clearly are an inferior yoga teacher because you can't just pop up into a handstand in the middle of the room."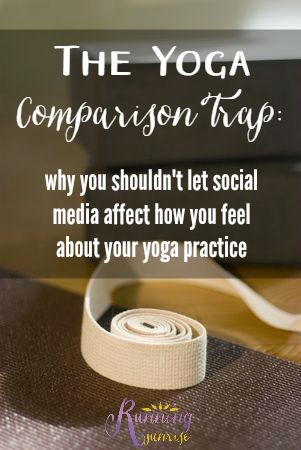 I was falling into the comparsion trap, big time. Then one day, I had a small epiphany while teaching. I always tell my students to make their practice their own, that their pose won't look like their neighbor's pose, and the fact that our bodies are all different is part of the beauty of life. I realized that I needed to listen to what I was preaching and work on accepting that my yoga practice is just as good of a practice as someone who can get into more advanced poses.
For those of you who haven't studied yoga, here's a little background information. There are eight limbs of yoga as a whole. Asana, or poses, is just one of those limbs. Yes, just one eighth of yoga focuses on the postures you hold with your body. There is so much more to yoga than getting into a perfect scorpion pose, if there even is such a thing as a "perfect" pose.
I'm not saying that posting yoga poses to social media is bad. It's good to advance your practice. Sometimes we need to push ourselves in order to find out more about who we are. Sometimes a challenge is what you need to find your moving meditation in your asana practice. But, when your practice becomes all about hitting a certain pose or two, you lose sight of what yoga is really about. I know I'm guilty of this, and I want to come clean. Lucky for me, yoga is a journey and it's okay to take some missteps.
For those of you who are still beginners or whose bodies won't let you practice certain poses, know that you are just as much of a yogi as someone who can balance on one hand. Ultimately, yoga is about how you feel mentally and physically, two things that won't show up on your Instagram feed.
Do you struggle with the comparison trap, too?
If not, what have you done to overcome it?