Runners are busy people. Not only do they have the usual long list of to-dos, but they have to fit in their training runs on top of that. I know many runners who know how beneficial yoga is, but they just don't have the time. They'd love to attend classes at their local yoga studio regularly, but they just can't squeeze them into their busy schedules. The good news is, you don't have to spend over an hour doing yoga to see benefits. Yoga can help you become a better, stronger runner in just 10 minutes a day.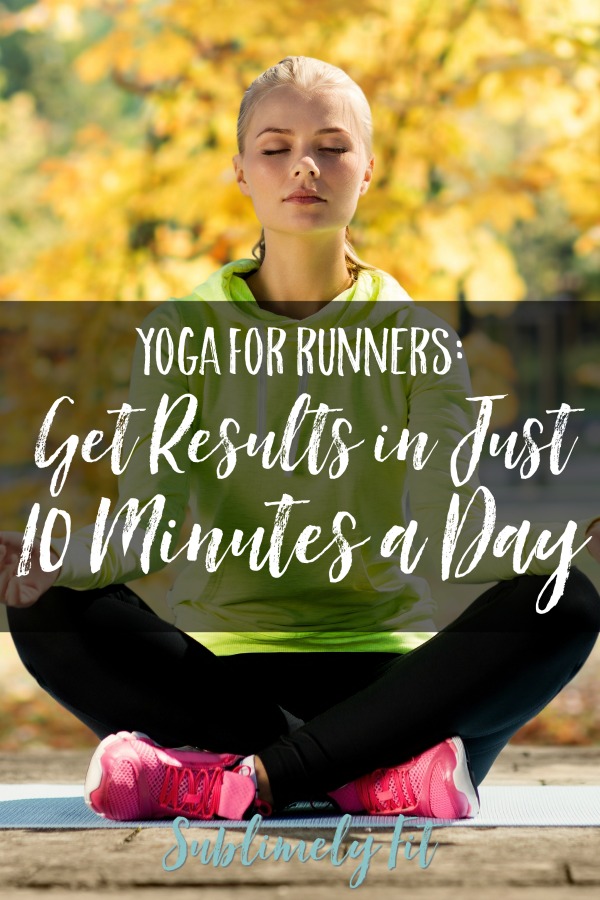 Rotate Your Focus
If you're only spending 10 minutes a day doing yoga, you have to plan those 10 minutes carefully. In most cases, it's just not possible to get in a full-body, strength-building workout in 10 minutes. But, that doesn't mean you can't strengthen your body with yoga. To get the full benefits of yoga for runners in a short amount of time, you just need to be smart about planning your yoga sessions.
FREE Hip Openers for Runners Guide
Sweet relief for your tight, sore hips!
Get the best hip-opening yoga poses sent straight to your inbox.
Each day, focus on a different area of your body. For example, one day you could concentrate on strengthening your quads and hamstrings by doing a lot of lunges and Warrior poses. The next day, you could strengthen your core with planks and Boat Pose. Each week, aim to have worked to strengthen your entire body. With careful planning, you can build the strength you need to run strong and injury-free with just 10 minutes of yoga a day.
Don't Forget Your Mind!
One of the biggest benefits of yoga for runners is the mental strength it brings you. Unfortunately, most runners forget that yoga isn't purely physical, and they miss out on this incredible opportunity to become a mentally stronger runner. The mental focus you learn on your mat can help you power through difficult training runs and races.
As you're doing your 10 minutes of yoga, be sure to also find your mental focus. Tuning out your thoughts in an hour-long yoga class is easier because you have more time to mentally let go of your day. A shorter yoga session requires much more mental strength and control. You can absolutely do it, but you'll just have to work a little harder to let go of your thoughts during your yoga practice.
Sample 10 Minute Yoga for Runners Plan
Here's a quick sample plan you could follow:
Sunday: Restorative Yoga (to help your connective tissue release)
Monday: Legs and Thighs
Tuesday: Upper Body
Wednesday: Hip Openers
Thursday: Core
Friday: Glutes and Hips
Saturday: Ankles and Feet
Work through the poses listed in those blog posts, repeating each pose two or three times. As you're doing the poses, be sure that you're really focusing on engaging each muscle group. For example, when you're working to strengthen your glutes, really focus on engaging your glutes in each pose. That will allow you to get the most out of your 10 minutes of yoga, and it will teach you to focus better mentally, too.
Commit and Follow Through!
If you really want to see the benefits of yoga in your running, the most important thing you'll have to do is be consistent. You'll never see the results you want if your yoga practice is more haphazard than consistent. Luckily, knowing that you can see results in just a few minutes a day makes building a yoga practice less daunting. Turn off the TV, find someone to watch your kids for a few minutes, do what you have to do to get on your mat and become a better runner with just 10 minutes of yoga a day.
Linking up with Running on Happy, Suzlyfe, Crazy Running Girl, and Coach Debbie Runs for Running Coaches Corner!