The weather is getting nicer, which means a lot of you will be getting active outside. Whether you're a runner, cyclist, walker, hiker, or you just like to move outdoors, spring and summer are a great time to get outside and do your thing.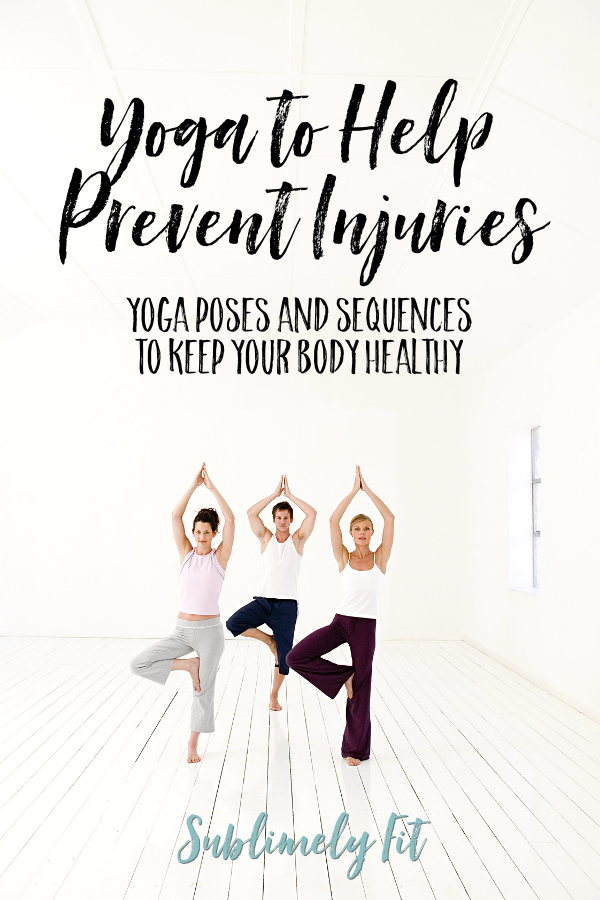 But, with that increased activity comes an increased risk of injuring yourself. Overuse injuries are so, so common, especially when you're doing an activity that includes lots of the same motion, like running. (When you run, you're moving your legs in a front-to-back motion over and over.)
FREE Hip Openers for Runners Guide
Sweet relief for your tight, sore hips!
Get the best hip-opening yoga poses sent straight to your inbox.
Luckily, there are things you can do to reduce your risk of getting injured.
And, yoga can help you do that.
Unfortunately, there's no way to 100% make sure that you're never going to get injured. Injuries happen for a lot of reasons, and our bodies are pretty complicated. If you're experiencing consistent little aches and pains, I'd strongly recommend that you go visit a sports medicine specialist or a physical therapist (physiotherapist). Those professionals will be able to diagnose why you're having the issues you're experiencing, and they can prescribe a course of action to help heal you.
But, if you're just looking for a general routine to follow to build strength in the right places and to do what you can to lower your chances of getting an injury, yoga can help! Like a regular strength-training program, it can help you keep your body strong in all the right places, helping to keep you healthy. And, it can help build flexibility in areas where being too tight can cause problems, too. That's one of the big reasons why I highly recommend yoga—it really helps keep your body (and mind) in balance.
Here are some yoga poses to try and yoga sequences to follow that can help reduce your injury risk:

Yoga Poses for Stronger Glutes – It's so important to strengthen your hip stabilizers, especially if you're a runner! Trust me, I learned that one the hard way.​​ ​​When your glutes are weak, it can throw all of the muscles of your hips out of balance, especially when muscles like your hip flexors are too short and/or strong from sitting all day. Take care of your hips and take care of your body!
Hip Flexor Stretches: Yoga for Hip Flexors – If you spend a lot of time sitting at a computer (like I do), your hip flexors are probably pretty tight. Unfortunately, that often causes an imbalance between the muscles on the front side of our hips and the rest of our hips. That imbalance can easily lead to injury. So, if your hip flexors are feeling tight, please give them some love! (I know my tight hip flexors have caused injuries before. Learn from my mistakes!!)

​​​Yoga Core Workout Sequence​​​​ – A strong core protects your entire body! It also helps you keep your spine in alignment, and can help with the alignment of your hips, too. Whether you're a runner or you're just trying to stay fit and active, a strong core is so incredibly important. Make sure that you're taking the time to strengthen your core a couple of times a week to protect your body.

​​Gentle Yoga Sequence for Upper Back and Shoulders – Spend a lot of time hunched over a computer? This gentle yoga sequence will help you counteract that. And, it will help keep you from leaning forward with your upper body, which can exacerbate shoulder and upper back issues.

​​Yoga Sequence for Feet and Ankles – So often, we forget about our feet and ankles, but they're so important! If you don't wear supportive shoes, wear high heels often (which shortens your calves and Achilles tendon), or if you're a runner and your feet take a pounding, definitely follow this sequence to keep your lower legs, ankles, and feet happy.