Strong glutes are about so much more than having a nicely-toned butt. Strong glutes help you stabilize your hips, which can help you prevent injuries while doing activities like running. Weak glutes can cause problems up and down your kinetic chain, and they're often the cause of knee soreness and other hip issues. (I personally had weak glutes cause a bad injury in my hip flexors, the muscle group at the front of the hip.) Here I'm sharing five of my top yoga poses for stronger glutes. I hope that they'll not only help you shape your derriere just the way you want it, but that they'll also help you have stronger, more resilient hips.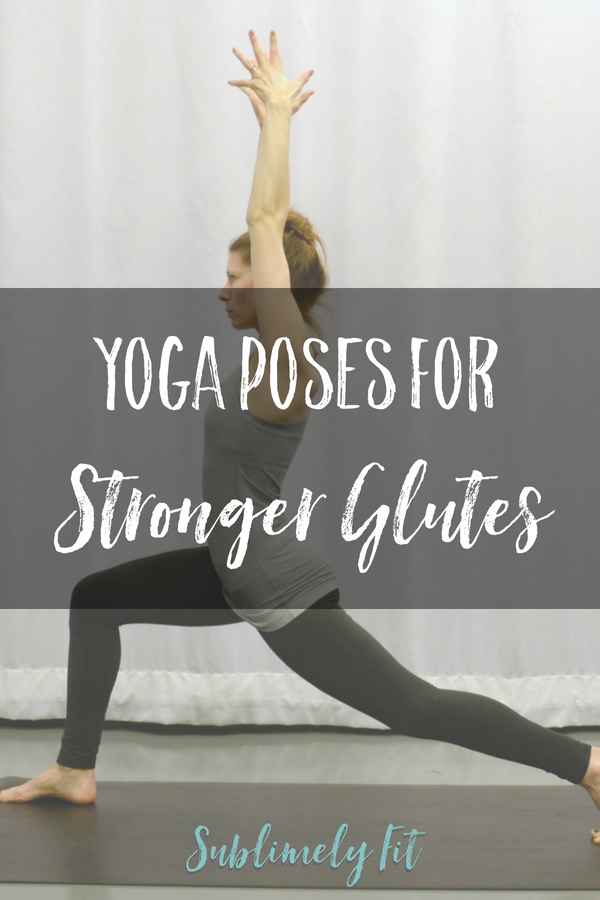 Disclaimer: I am a yoga teacher, but I'm not your yoga teacher. Always practice yoga mindfully and if you have any questions, consult with your teacher.
FREE Hip Openers for Runners Guide
Sweet relief for your tight, sore hips!
Get the best hip-opening yoga poses sent straight to your inbox.
Top 5 Yoga Poses for Stronger Glutes
Here are the yoga poses that I recommend to my students and clients who are working to build stronger glutes: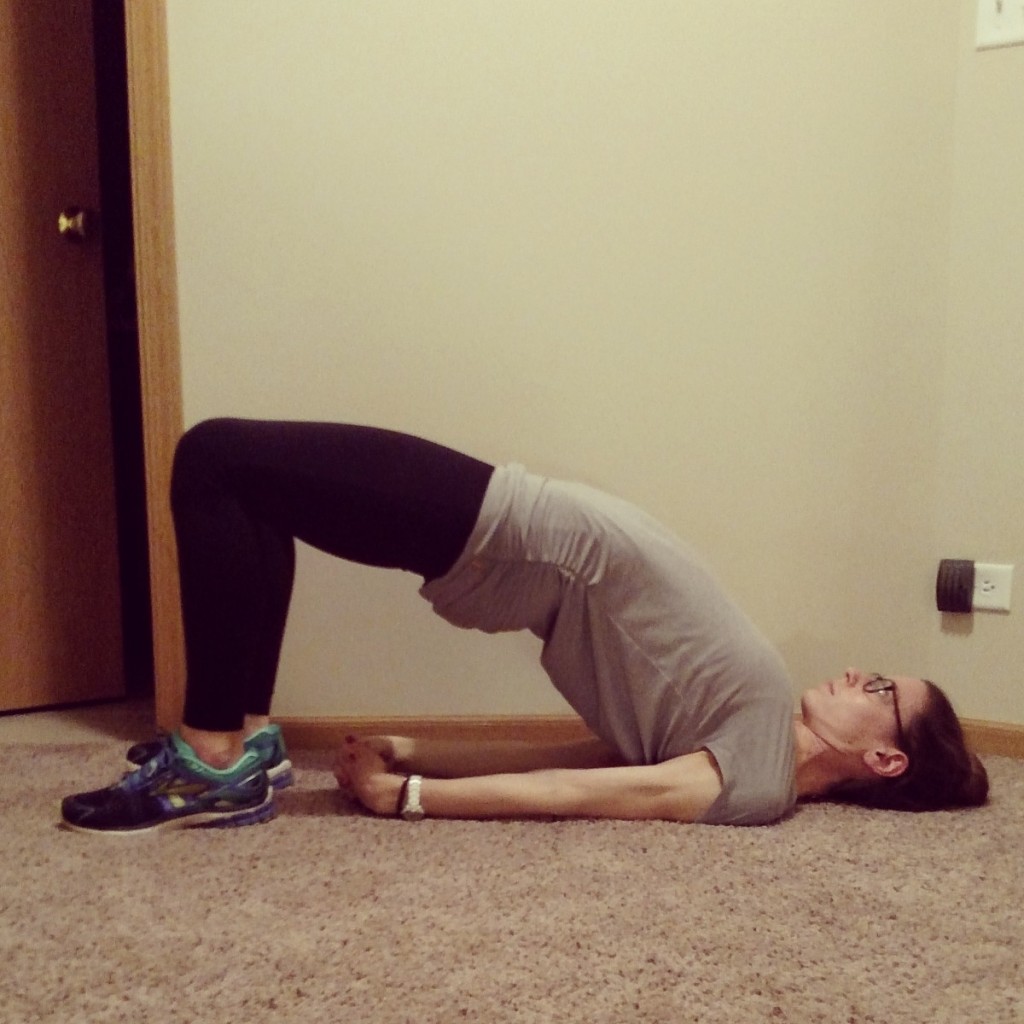 Bridge Pose
To come into Bridge Pose, start with your back on a mat or ground, your arms long by your sides. Scoot your heels in towards your butt so that your fingertips graze the back of your heels. Plant firmly through your feet (especially your heels) and shoulders and press your hips up on an inhale. Think about engaging your quads and glutes to lift your hips higher.
Start by holding the pose for five breaths, then gently lower down. Repeat two more times. Work up to holding for 30 seconds to a minute, focusing on keeping good form and muscle engagement the entire time.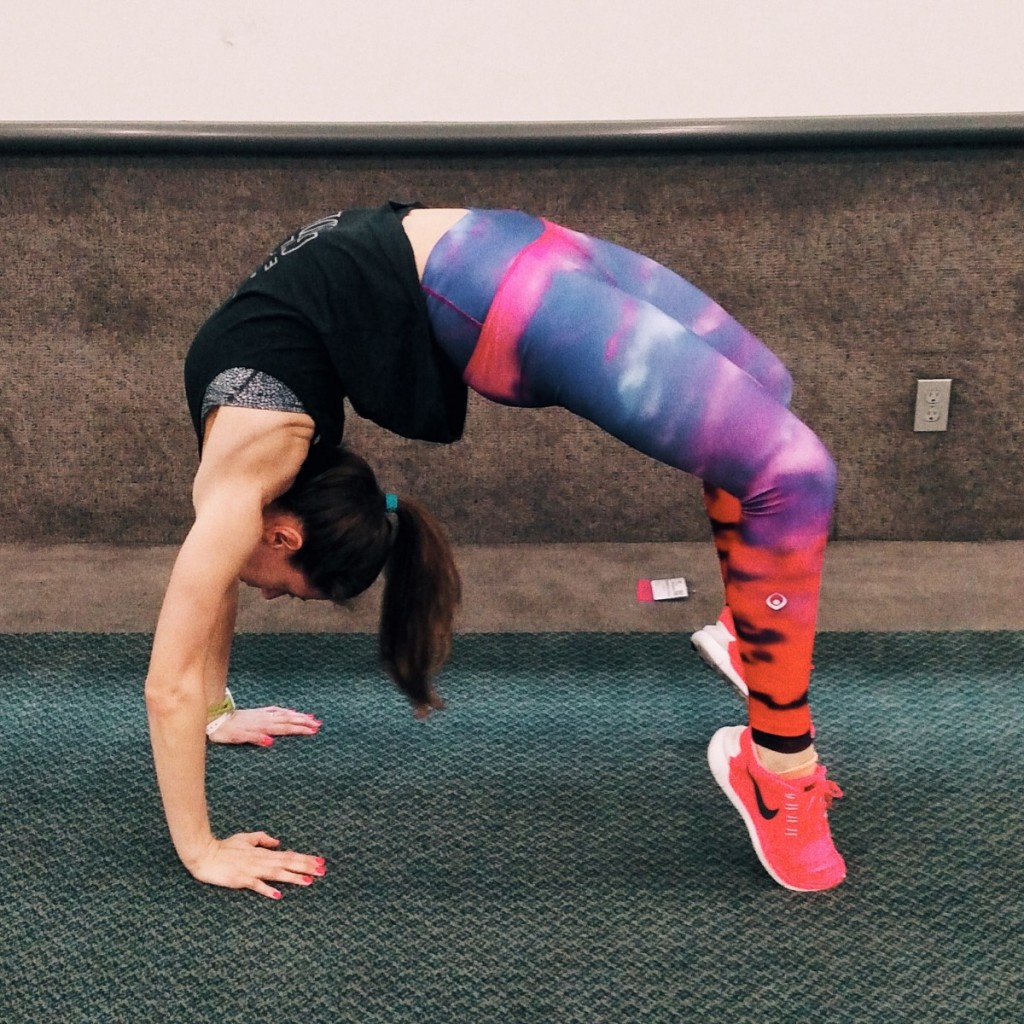 Wheel Pose
If you're feeling very solid in bridge and you have good upper body strength, you can start to add in Wheel Pose, AKA Upward Facing Bow. Start in a similar setup to bridge, but place your hands right under your shoulders with your fingertips pointing back towards your heels. Your shoulders should be touching the backs of your hands. On an inhale, lift your hips high, trying to get your arms as straight as you can. Focus on engaging your glutes to bring your hips higher. Hold for several breaths, then carefully roll down, one vertebra at a time, protecting your neck as you lower yourself down.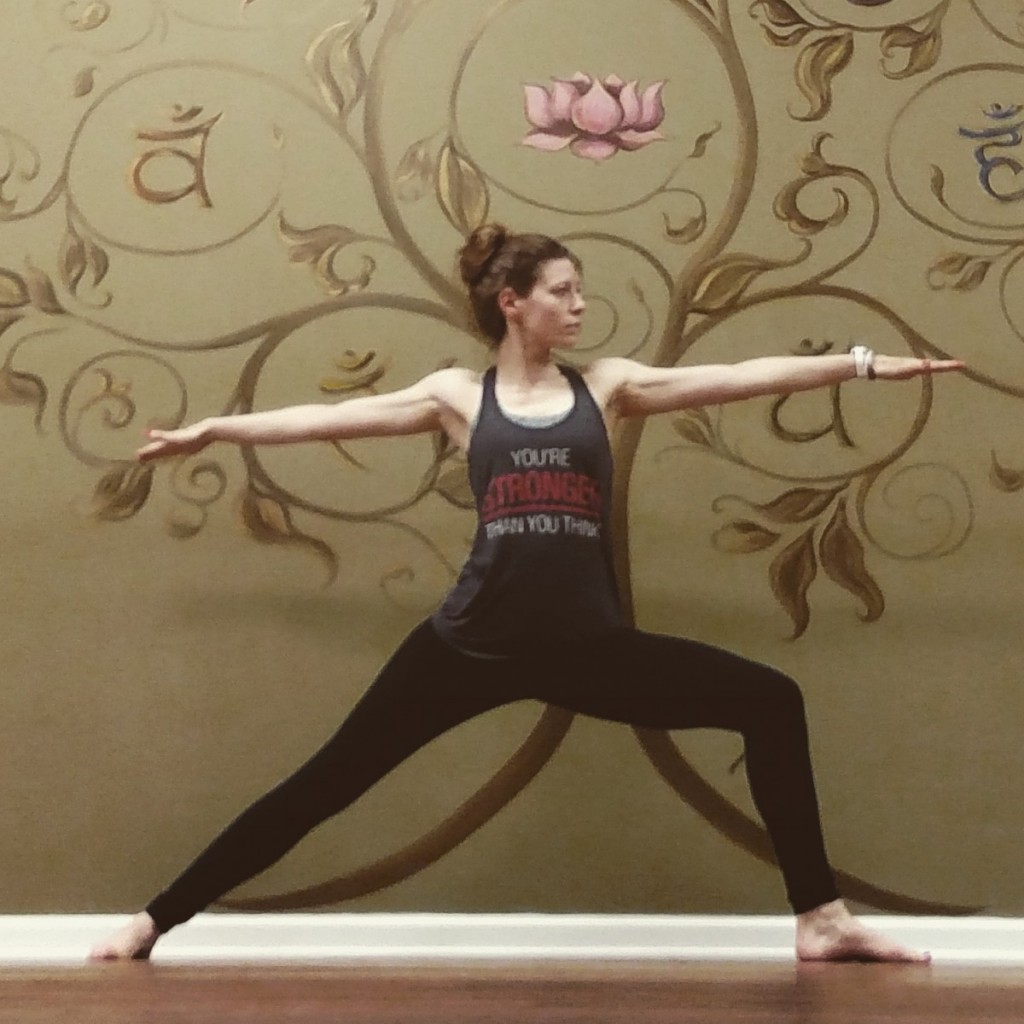 Warrior II
Start finding your Warrior II by taking a wide stance on your mat. Your front heel should be in line with the arch of your back foot. Your front foot is parallel to the long edge of your mat and your back foot is perpendicular to the mat. Press equally through both feet. Begin bending your front knee, keeping it directed toward the middle toe of your front foot.
Make sure that your front knee isn't coming forward of the front ankle; if it is, take your feet further apart. See if you can get your front thigh parallel to your mat. Focus on engaging your outer glutes to track your knee out over your middle toe, and to pull your hips open. Hold this pose for three to five breaths to start, building in duration as you get stronger.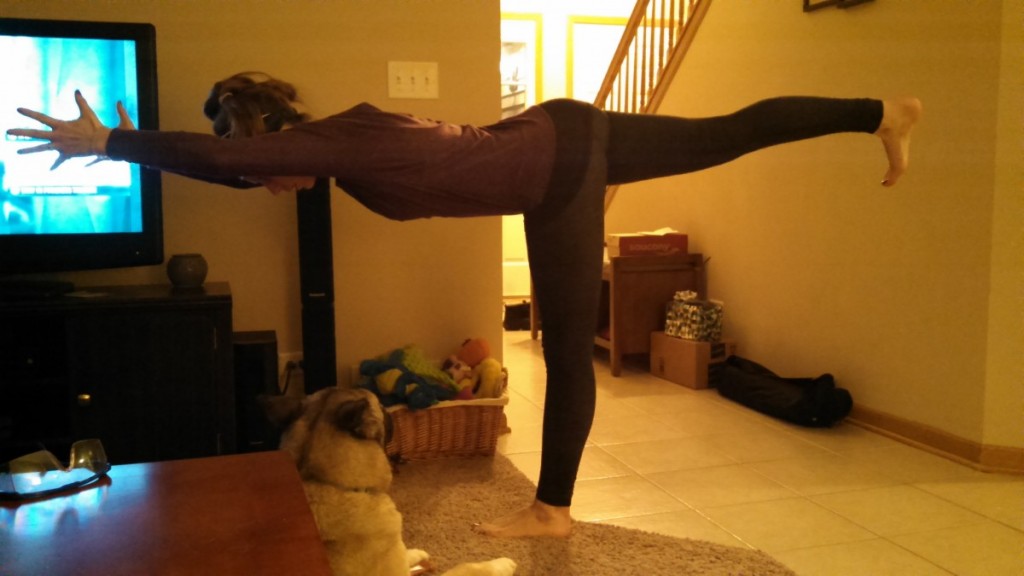 Warrior III
From a Crescent Lunge, push off the ground with your back foot, bringing your body into the shape of a capital T. Make sure you're grounding down through all four corners of the standing foot. Engage the muscles in both of your legs and flex through the back foot a lot. Keep lots of energy in your arms and fingertips as well, which will help you stay balanced. Also work to try to keep your hips level. Try not to let the hip of your top leg sit higher than your bottom hip. This ensures that your hips are square. Keep your gaze gently in front of you as you focus on one spot and breathe.
How do you really make sure you're targeting the glutes? Pretend that you're kicking something behind you, which will help engage the glutes. You can also squeeze from your gluteus maximus and the top of your hamstrings to keep your leg lifted. That will help tone the area right where your hamstrings meet your glutes. And, it will help you strengthen your stride–you'll press off of the ground more forcefully with each step.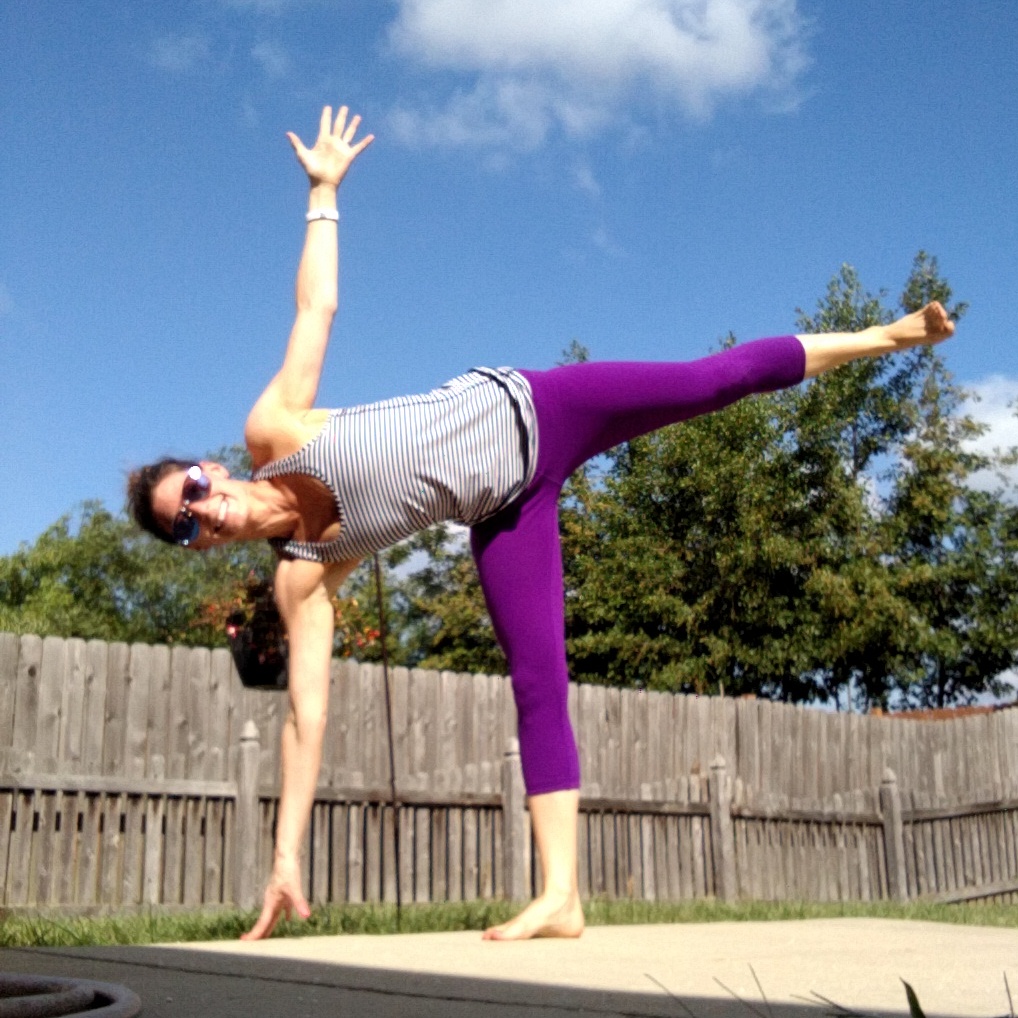 Half Moon Pose
Try coming into half moon from Warrior II. Press off your back foot and bring your bottom arm (your right arm if your right leg was forward) to a chair, a yoga block, or to the ground, stacked directly under your shoulder. Try to stack your shoulders and hips on top of each other, top over bottom. You should work toward eventually getting your chest and hips to be square to the direction you're facing. (This will naturally happen when your shoulders and hips are stacked.)
So, how do you really target the glutes in Half Moon Pose? Just like in Warrior III, flex the top foot and pretend that you're kicking something behind you to engage the glutes a little more. If you're holding your leg below your hips, you can also work your glutes a little more by squeezing your outer glutes to lift the leg a little higher.
FREE VIDEO: 15-MINUTE YOGA SEQUENCE FOR A STRONGER BOOTY
I've put together a quick power yoga video that leads you through most of these yoga poses for stronger glutes. And, you'll find a few others that will really work your booty that aren't featured in this post. I think you're really going to love this sequence, and that it only takes 15 minutes to work through! (Love this video? Please share it with your runner friends who need stronger hips and glutes. And, be sure to subscribe to my YouTube channel!)
RESOURCES: STRONGER GLUTES AND HIPS FOR RUNNERS
I can't emphasize this enough: strong glutes are the key to staying strong and injury free. Smart runners (and smart people in general) regularly work to build glute strength. Here are some additional resources that can help you build a stronger butt, too:
Improve Your Running By Activating Your Glutes
6 Essential Hip and Glute Exercises for Runners
Unilateral Core + Glute Exercises for Runners
Glute Activation Drills to Do Before Your Next Run
5 of the Best Exercises for Glute Activation
Hip, Core and Glute Resistance Band Workout
Linking up with Running on Happy, Crazy Running Girl, Coach Debbie Runs, and Train with Marc for Running Coaches' Corner.